Vermont Arts News | Vermont Arts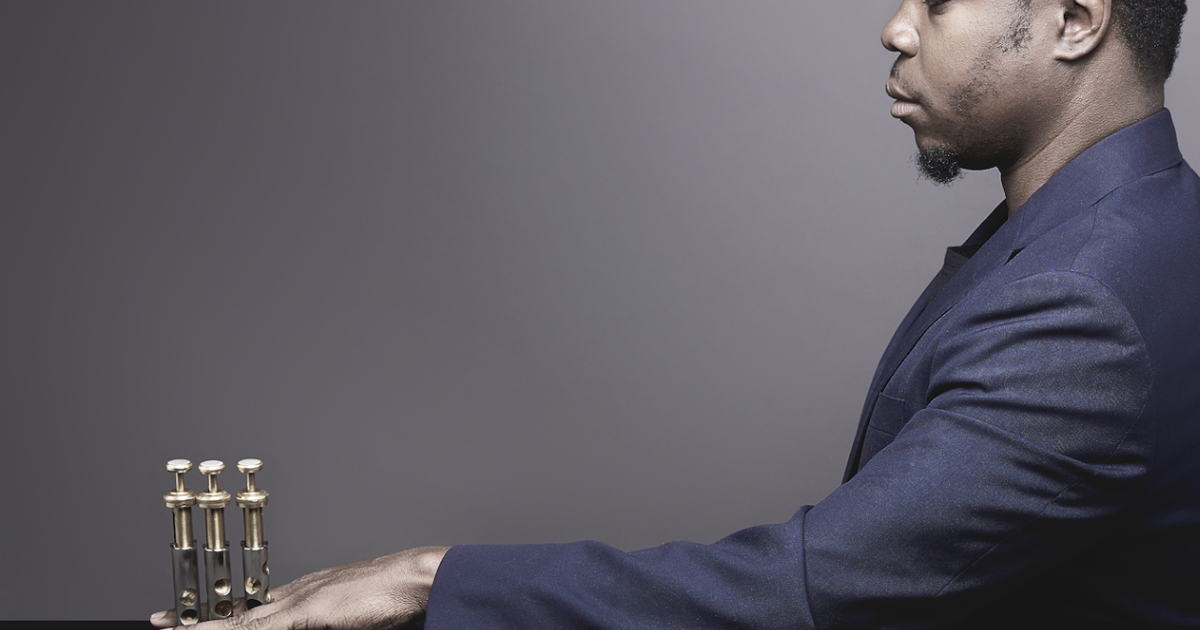 Ambrose Akinmusic jazz
BRATTLEBORO — The Vermont Jazz Center will present, at 8 p.m. on January 22, the Ambrose Akinmusire Quartet featuring Ambrose Akinmusire on trumpet with Micah Thomas on piano, Linda May Han Oh on bass and Tim Angulo on drums. This is a live, in-person concert with no live streaming element.
Akinmusire's latest album, his fifth for Blue Note Records, "On the Tender Spot of Every Calloused Moment", has been nominated as Best Jazz Instrumental Album for the 2021 Grammy Awards. Akinmusire's accolades list includes winner from the Thelonious Monk International Jazz Trumpet Competition, winner of the Carmine Caruso International Solo Trumpet Competition; Downbeat Critics Poll: Jazz Artist of the Year, Best Trumpet (multiple times); Jazz Times Critic's Poll: Trumpeter of the Year (three times), Artist of the Year, Record of the Year; New York Times Best Jazz Album of the year (2011), Jazz Journalist Association Trumpeter of the Year and others too numerous to mention.
Ambrose Akinmusire is a truth-teller whose music is an expression of his personal journey as a black man. In a recent interview with Phil Freeman of the Burning Ambulance podcast, Ambrose alluded to his upbringing as the child of a Mississippi Delta woman and a father from Lagos, Nigeria:
"I was raised by a woman in the most racist county in the most racist state in the country. My mother picked pecans from Fanny Lou Hammer's garden. My uncle knew Emmet Till. I was born and I grew up in Oakland and my first trumpet teacher was actually a Black Panther. That's how I grew up. Living in Oakland is my experience. My life isn't made up of love ballads. "It's difficult, it's beautifully complicated. I have to find a way to express that complexity. I would say every black person living in America has to deal with that…so it's all in my music."
"From the Wild Sea"
MIDDLEBURY – MNFF Selects, the series of monthly screenings presented by the Middlebury New Filmmakers Festival, will present the first Vermont screening of the remarkable documentary "From the Wild Sea" at 2 p.m. on Sunday, January 16 at the Town Hall Theater. In keeping with the theme of this year's Selects series, "Humans and Animals: Shared Experiences, Intersecting Worlds", this extraordinary film, from Danish director Robin Petré, zooms in on the complex collision between humans, sea creatures and nature, seen from both the human and animal point of view.
As the peak of winter approaches, a vast European network of marine animal vets and rescue volunteers are preparing for a difficult season. Night and day, all year round, they work tirelessly to save coastal wildlife from potentially deadly elements: oil, plastic and hazardous conditions. But the worst is yet to come.
Climate change is fueling severe weather across the seas and annual winter storms are hitting them with an unprecedented roar. As humans attempt to save sea creatures, each animal watches us with inquisitive eyes. Through an intimate visual experience that follows the animals through their rehabilitation, audiences can see and feel the challenging world humans have created for these sensitive co-inhabitants of our rapidly changing planet.
Tickets are $16, $11 for 12-17 year olds, $7 for under 12s; call 802-382-9222 or go online to middfilmfest.org Where townhalltheater.org Proof of vaccination, reminder and mandatory masks.
Marlboro Music
BRATTLEBORO – The Marlboro musicians perform at the Brattleboro Music Center at 7:30 p.m. on Monday, January 24.
Performers include Daniel Phillips and Stephanie Zyzak, violins; Tanner Menees and Maiya Papach, viola; Alexander Hersh and Alice Neary, cello; and Evren Ozel, piano. The program includes Schumann's Piano Trio in F major, Op. 80; Perkinson's String Trio; Schoenberg's String Trio; and Dvořák's String Sextet in A major, Op. 48.
To celebrate their recent purchase of Potash Hill and the special partnership shared with the BMC, Marlboro Music is donating the artists' fees for this concert. The BMC is grateful for their generous donation.
Admission is by donation ($10 to $25 suggested); go online for bmcvt.org
ArtistJulia Jensen
CHESTER — The DaVallia Gallery invites the public to a new art exhibition. "Visceral Landscape" features a new collection of contemporary abstract paintings by local Vermont artist Julia Jensen, through February 6.
Jensen's paintings portray an abstract perspective on our landscape that has a softness and familiarity that welcomes the viewer into their experiences of their world. When painting, she makes a concerted effort to "keep the subject out of the way", focusing on color and form. His paintings are not from a nearby place, but from his memories. Jensen's internal, emotional and spiritual experiences are all eloquently captured in his brushstrokes.
To schedule a private viewing, call Michael Alon at 802-875-8900.
Shaw wall purse
MONTPELIER – The Montpelier Public Art Commission will collaborate with Montpelier Alive, Pomerleau Real Estate and Shaw Supermarket to conduct a nationwide search for an artist or team of artists to create a mural at one of the most popular locations. largest and most important in the city center of the capital. The winning submission could receive up to $19,000 to complete its design in the summer of 2022.
The objective of the project is to create a welcoming environment in the heart of Montpellier. The selected mural will add to a sense of community, inclusiveness for residents and visitors, and have universal appeal.
The deadline for submission is February 18. The selection process will be divided into two phases. First, on March 7, up to three finalists will receive $500 to prepare a final design. A team of selected artists/artists will be announced by May 9 and they will receive up to $18,500 to complete the mural by August 8.