Unpublished works by Damien Hirst presented at the inaugural exhibition at Gagosian Gstaad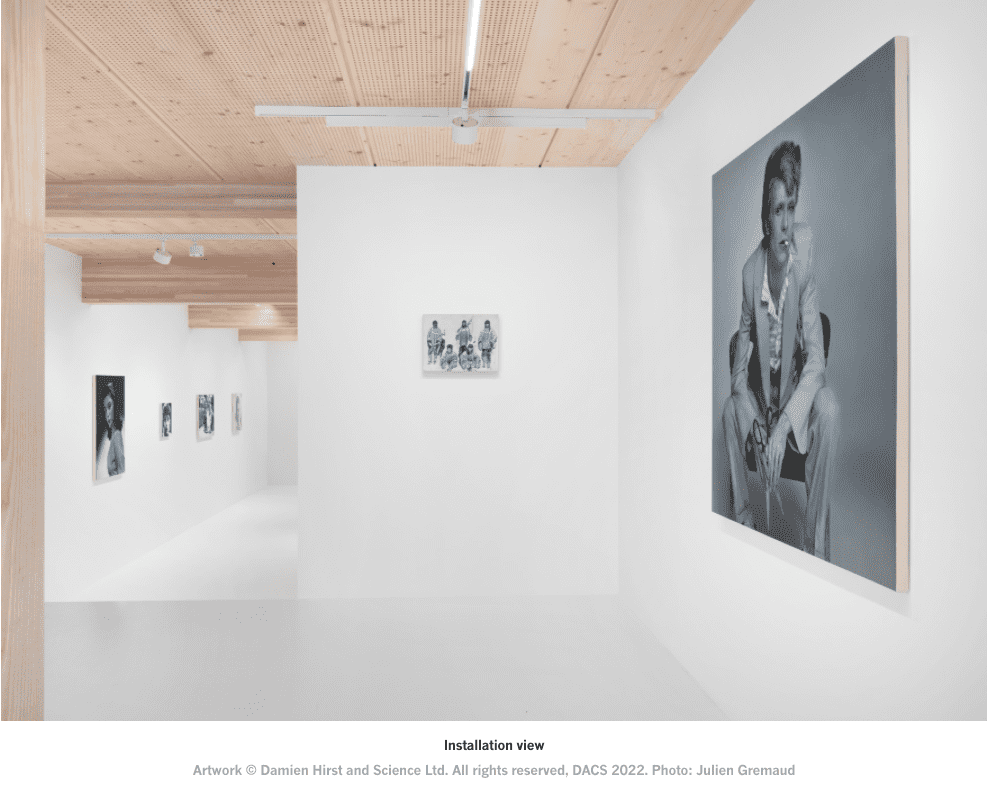 On the occasion of the opening of the new gallery in Gstaad, Gagosian is pleased to present Myths, Legends and Monsters, an exhibition of paintings and drawings by Damien Hirst. Produced over the past fifteen years, these works have never been exhibited before.
Myths, Legends and Monsters (2007–) is a series of monochrome oil paintings that depict legendary artistic, political and pop-cultural figures, including Jean-Michel Basquiat, David Bowie, Sharon Tate and Andy Warhol. Rethinking what makes these figures enduringly iconic, Hirst challenges contemporary notions of celebrity and identity, influence and notoriety. The subjects of the series are all complex individuals – far from being mere heroes or villains, they possess aspects of all three title elements. "I tried to represent humanity – or, often, the lack thereof – in all its facets," says Hirst.
By rendering the subjects of Myths, Legends and Monsters in black and white, Hirst introduces a powerful aura of nostalgia to the project, a lingering suggestion of fading memories and times gone by. It also sets a stark contrast to the intense and varied color exhibited in other well-known bodies of his work, such as the extensive Spot Paintings series and, more recently, the Veil paintings. "I
felt the need to let the color flow," he notes, "and explore something more binary." The pencil drawings in the exhibition, made after the paintings but of equal importance to the artist, underline this exclusivity.
Myths, Legends and Monsters is the most recent incarnation of Hirst's Fact Paintings, which mimic oil-on-canvas photographs, sometimes with scrupulous precision, at others reveling in the physical qualities of the medium. Fascinated by the implications of investing a long period of artistic labor in the making of an image that was originally captured in a mere moment, Hirst presents these works as
challenges to the stubbornness of "fact" as the guiding principle of perception. Myths, Legends and Monsters explores, as do the Fact Paintings as a whole, a dialogue between brush and camera as agents of "truth".
DAMIEN HIRST Myths, legends and monsters From February 14 to March 26, 2022 Gstaad
About the artist
Damien Hirst was born in Bristol, England, and lives and works in London, Devon and Gloucestershire, England. Collections include the Museo d'Arte Contemporanea Donnaregina, Naples, Italy; Brandhorst Museum, Munich; Museum für Moderne Kunst, Frankfurt am Main, Germany; Stedelijk Museum,
Amsterdam; Centro de Arte Dos de Mayo, Madrid; Tate, London; Israel Museum, Jerusalem; Astrup Fearnley Museum, Oslo; Gallery of Modern Art, Glasgow, Scotland; National Center for Contemporary Arts, Moscow; Museum of Modern Art, New York; Hirshhorn Museum and Sculpture Garden, Washington, DC; Art Institute of Chicago; The Large, Los Angeles; Jumex Museum, Mexico City; and 21st Century Museum of Contemporary Art, Kanazawa, Japan.
Exhibitions include Cornucopia, Oceanographic Museum of Monaco (2010); Tate Modern, London (2012); Relics, Qatar Museums Authority, Al Riwaq (2013); Meaning (Hope, Immortality and Death in Paris, Now and Once), Deyrolle, Paris (2014); Astrup Fearnley Museum, Oslo (2015); The Last Supper, National Gallery of Art, Washington, DC (2016); Treasures from the Wreck of the Incredible, Palazzo Grassi and Punta della Dogana, Venice (2017); Damien Hirst at Houghton Hall: Color Space Paintings and Outdoor Sculptures, Houghton Hall, Norfolk, England (2019); Mental Escapology, St. Moritz, Switzerland (2021); Cherry blossoms, Fondation Cartier, Paris (2021); and Archeology Now, Galleria Borghese, Rome
(2021). Hirst received the Turner Prize in 1995.
Categories
Art Stuff Gstaad
EXHIBITIONS
Keywords
Author
Marc Westall
Mark Westall is the founder and editor of FAD magazine, founder and co-editor of Art of Conversation and founder of the @worldoffad platform