To Do Today: Bright Trash at the ICA Watershed | UB today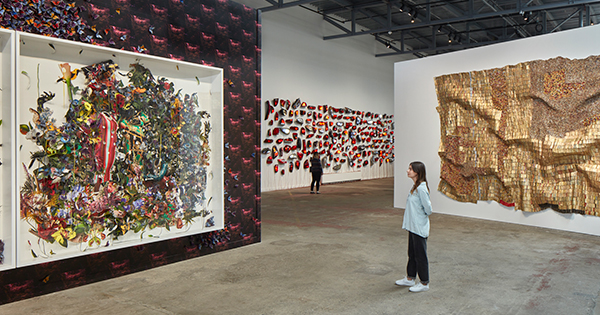 A traveling installation of modern artworks that recycle industrial and everyday materials
What?
Watershed of the Institute of Contemporary Art / Boston (ICA) traveling exhibition of modern artworks emphasizing the recycling of materials to build large-scale installations.
When?
Tuesday to Sunday, 11 a.m. to 5 p.m., until September 5
Where?
The exhibit is located in a warehouse at the Boston Harbor Shipyard and Marina, 256 Marginal St., East Boston, and is easily accessible via the MBTA. Just take the green line to the government center and switch to the blue line, get off at Maverick and walk about 12 minutes from there. There is also a river shuttle service between ICA and the watershed, free with admission to ICA.
How many?
Admission to the watershed itself is free and included with the purchase of an ICA ticket. ICA General Admission tickets cost $20; admission is free for BU students with a valid ID.
The river shuttle requires a timed ticket (free for members) and advance reservations are highly recommended. Select "Water Shuttle + General Admission Ticket" upon departure to reserve your place on the boat.
Why should I go there?
Since 2018, the ICA has held its seasonal exhibition Watershed in East Boston, which begins in the spring and lasts until the fall. Housed in a once condemned warehouse overlooking Boston Harbor, the setting provides an unusual yet atmospheric setting for the artwork inside unlike anything else in Boston.
This year's exhibition is Renaissance: materials and monumental forms, featuring the large-scale installations of six artists, focused on the recovery and reuse of everyday materials through a form of artistic recycling. Artworks include sculptures made with bottle caps, towering pieces formed from used clothing and crates, and an installation of used car headlights and taillights. It's all unique and new material for the ICA, and adds something new for those who have already visited the museum and seen the permanent exhibits.
The six artists come from all over the world and include Ghanaians El Anatsui and Ibrahim Mahama, Trinidadian American Karyn Olivier, Jamaican Ebony G. Patterson and American Joe Wardwell. And the free round-trip ferry ride with a view of Boston Harbor is also very nice.