Tiona Nekkia McClodden is not running away | Way of life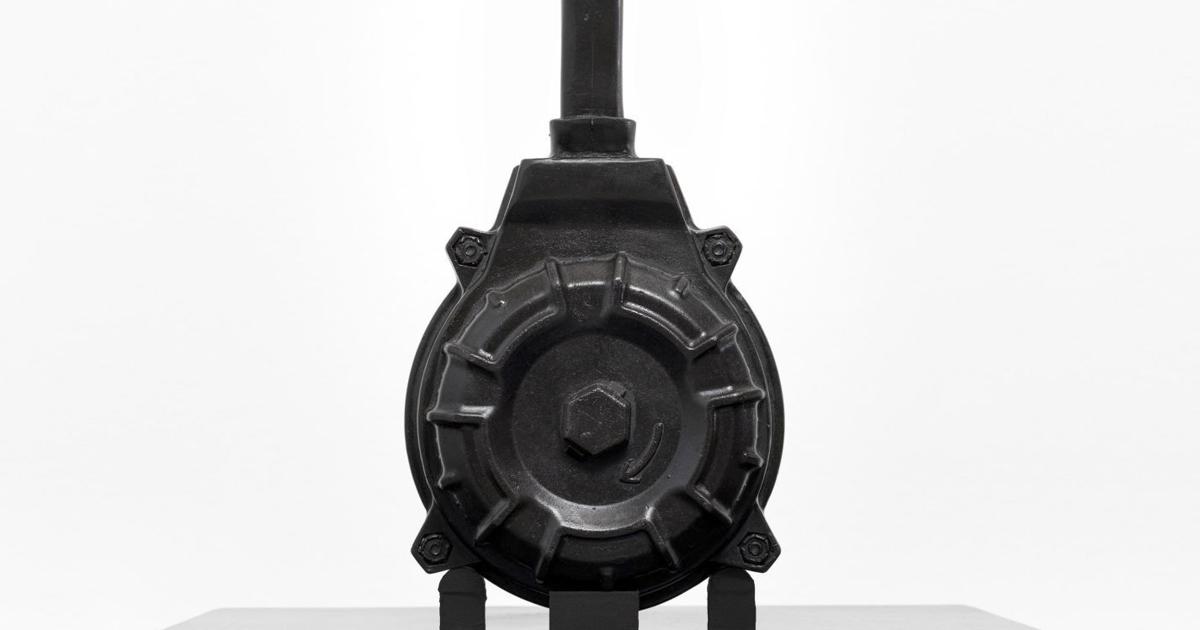 PHILADELPHIA — Tiona Nekkia McClodden hit the shooting range on a sweltering Monday in July. The air was sticky inside the establishment, but his routine would not be denied. She shoots weekly and avoids weekends, when the range is crowded and noisy with men firing assault rifles, inviting sensory overload.
This might be a familiar activity for some Americans. Less for an artist. But McClodden, 41, a 2019 Whitney Biennale star who now has three major work showings in New York — at 52 Walker, the Shed and the Museum of Modern Art — didn't buy guns and get his porter permit two years ago with art in mind. At least at the start.
She did it — like many other black Philadelphians, she recalls — after the pandemic emptied the streets, then George Floyd protests and counter-protests filled them with intruders and a sense of swirling violence. Security and self-defense were his concerns.
The range staff gave her a warm welcome – she trained here, which earned her a membership. She bought ammunition and paper targets with pink silhouettes or multiple oval bull's eyes. At her hallway, she pulled out her three handguns – a Walther .22 and a 9mm Glock and Smith & Wesson – and placed them carefully in front of her.
"Every ball I load, I breathe through it," she said. "I'm adapting to being in space. There is a protocol.
An hour later, McClodden was heading to his studio in North Philadelphia. She had concluded her shooting practice, as always, with a sequence where she drew methodically, before each shot, to break the mechanical spell of shooting without a break. It put the human issues right in his thoughts, reminding him that this is not a game.
"There is life there," she said.
It wasn't for the art — but the art happened anyway. The result is "Mask/Conceal/Carry," a brooding beast of an exhibition, bathed in blue light, at 52 Walker, the David Zwirner space in Tribeca.
He finds McClodden, who emerged as a filmmaker before branching out into installations, at his broadest formal, including video, sculpture, bronzes, text, and his first series of paintings. But its theme is tight: the journey of an artist through photography to confront herself and establish her position in the world – in all the facets of her identity.
Bold, often jarring, the exhibition forms a sort of triptych this season with McClodden's other Manhattan presentations: a life-size installation at MoMA that pays homage to Brad Johnson, a black gay poet who died in 2011, on the theme of bondage and fetishism. ; and at the Shed, an extensive program she curated on the history of black dance.
The result is three ways to meet an artist who may be America's most essential today, a staunchly individual and startlingly candid individual about race, gender, sexuality, spiritual life and more – to better carve out a responsible role in culture. Celebrating a forgotten figure like Johnson, or a whole field like black dance, is his way of recognizing and renewing artistic lines, a kind of responsibility.
"It's all practice not to be ignorant," she said. "Period."
On the wall near his desk were his talismans – a poem by Johnson, a photograph by Jean-Michel Basquiat, and a dark object bristling with short vertical spikes. It was a rustic tool used to remove seeds from cotton, evoking associations with black labor.
"It's the most painful thing in the studio," she said. "I have it there because it's a representation of a feeling – something that causes me immense distress but is almost invisible."
At the top of a pile of books was "Unmasking Autism," a new book by psychologist Devon Price. In 2001, McClodden said, a doctor suggested she was on the autism spectrum, but she dismissed the idea.
"I took it as a negative," she said. But in 2019, she was diagnosed — it took a long time and was expensive — and she continues to embrace her ideas.
"I hid for a long time," she said. She lived with the symptoms – overstimulation, non-verbal periods, confrontational behavior – while pursuing her art. Now he offers advice.
"I decided to match my lived experience as an autistic person, at the intersection of a lot of identities, to a constant state of discomfort," she said. "So the work must be uncomfortable."
Her experience with autism played a role in the alchemy of events that produced "Hide/Conceal/Wear" (and adds another layer of meaning to the title). When she started practicing shooting, the noise and action was overwhelming.
"My sensory issues sent me out of reach," she said. "I couldn't get the sound off my skin."
To prepare, she took up dry-firing — shooting without ammunition — in the studio. A phone app measured data from a node on the gun, and it incorporated the information into the paintings: they are black with a few squiggles in blue, green, white, or red segments, tracing in paint the data report on a shot.
"I can feel in my body everything I see here," she said. "It's like a graphic score."
In the workshop were a toaster oven and a vacuum press for making sculptures out of Kydex, a synthetic material often used for gun holsters. On the studio wall were stenciled texts on canvas, from a new series. Some read like mantras: "Train to failure", "Hold everything together".
"It comes from training in how to live with difference," she explained. Other posts to herself — "Black Insanity on the Ledge of a Death Star" — had a wilder feel.
"It's almost like the name of a punk band," she says.
Books in his library suggest other influences on the series, including titles about trauma and race; sculptor Nancy Grossman, whose heads evoke ritual slavery; the Benin Bronzes and WEB Du Bois's Pioneer Data Portraits of Black America.
"He is able to provide information about the dire situation of a whole group of people," she said.
Buying targets online, McClodden discovered a world of photographs of staged scenes: a shooter behind a car, a hostage situation. They're often used in law enforcement training, and she was intrigued by the fact that nearly all of the characters were white. She made a video where a sequence of images reveals a single dark figure beneath these figures.
But McClodden is there to observe, not to judge. Of course, she has views. She supports 'red flag' laws that would prevent potentially dangerous people from owning guns, opposes minors' access to guns and 'wouldn't mind' a ban on guns. assault. But this is not a show about gun politics.
"I'm not interested in articulating or taking on the grief of society at large, as a black woman," she said. "I tell you that I sleep well at night. This is the diet I got to know this time around.
Ebony L. Haynes, director of 52 Walker, which curated the exhibit, said the show may seem timely but it's not about the news.
"The material that Tiona is working on has a long history that is important to uncover," Haynes said.
"If 'social change' even creeps into my work," McClodden said, "I destroy it."
McClodden has a reputation as a samurai in the art world, bolstered by her choice to stay in Philadelphia — where she has turned her studio annex into a micro-gallery and reading room called Conceptual Fade — and keep her distance. of the New York art scene. Her friends are torn between expressing their own admiration and pointing fingers at her lighter sides.
"You use thumbtacks, Tiona uses a razor blade," Sadie Barnette, who shared residency with her in 2018 at Skowhegan School, said of her accuracy. At the same time, "he's that person who drinks fancy whiskey, throws the best party of the summer, and is kind."
Her fearlessness is currently on display at MoMA in 'The Brad Johnson Tape, X – On Subjugation', a work first produced in 2017 and recently acquired by the museum, where she filmed herself reciting Johnson's poetry. as she was suspended by her ankles from a platform. Fetish objects, books and an avalanche of rose petals complete the exhibition.
"The work offers an extraordinary model of freedom," said Lanka Tattersall, curator of drawings and prints at MoMA. "Understanding and expressing your sexuality and eroticism to the limits of your possible comfort is one of the greatest offerings an artist can offer."
McClodden's project at the Shed celebrates Dance Black America, a groundbreaking 1983 festival at the Brooklyn Academy of Music. It includes custom dance floors, video portraits of dancers of different styles and generations, and a series of performances. One subject is Mikki Shepard, who produced the original event.
"I'm glad she found out," Shepard said. "She's documenting it again but through a new set of eyes."
McClodden recalls spending long stretches during the pandemic driving around Louisiana and Mississippi, researching "Play Me Home," his installation in the Prospect 5 triennial in 2021. It was a roots trip. She's located relatives, seen land they hold, and other sites lost to predatory leases. She remembered that the men in her family—always men—hunted frequently and served in the military.
Knowing yourself as a shooter deepens this intimate journey. But art is a record for history.
"It's about to be the material culture of this time," she said. "The statement is that I am in the world, I did not try to run away from my position in this world and I wanted to be able to defend myself.
"I'm not trying to hide behind slavery or anything in the 1700s. I'm like, 2020 to 2022, that's what I was doing.