The Relay for the Art of Life by Elizabeth Andrade Arnold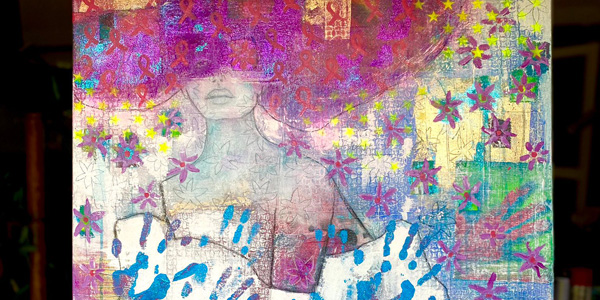 A local artist has created an artwork designed to honor and commemorate those affected by cancer for Bermuda's Relay For Life event.
Elizabeth Andrade Arnold's poignant painting is titled 'Angel of the First Degree' and will be displayed at North Field, National Sports Center on Friday and Saturday.
Depicted on the 30 inch by 40 inch canvas is an angel clad in hands, illustrating that one in two people will develop cancer in their lifetime.
She is surrounded by purple flowers, the color representing Relay For Life, while pink ribbons adorning her hair symbolize breast cancer awareness.
People will be encouraged to write the names of survivors, caregivers and those who lost the battle against cancer on the hands painted on the mixed media artwork.
"The organizers asked if I could create a space for people to remember their loved ones," Arnold told Bernews.
"I'm a figurative artist, not really an abstract artist, so I found my own touch.
"I started working very intuitively at first and very naturally this figure started to appear.
"I kept it very abstract but dressed it up in hands so people could sign them.
"I put in the knots in the hair, the cancer knots and the purple flowers, the Relay For Life stamp. I tried to go all out with my style. Fortunately, my style is quite busy!
"By the time everyone has signed and written the names of people who have been affected by the disease, it will be a wonderful holding space."
Arnold, who spent more than 40 hours creating the piece, said her own painful experiences with the disease influenced the powerful image she created.
"Over the years more and more of my own family have been affected by cancer," said Arnold, a Texan who moved to Bermuda in 1993.
"I lost my grandfather to leukemia; I have relatives who are battling cancer and I know two very strong women who have survived cancer.
"When you sit down and think about all of this, I think most people have been very affected by it in one way or another."
Arnold said she hopes her works will be auctioned off to raise money for charity.
Relay for Life of Bermuda aims to raise awareness and funds to support access to cancer prevention, early detection, treatment and support provided by the Bermuda Cancer and Health Center.
To register, make a donation or discover the many ways to participate in the event, click here.
Learn more about
Category: All, Entertainment, News