teacher inspires others through abstract art | Culture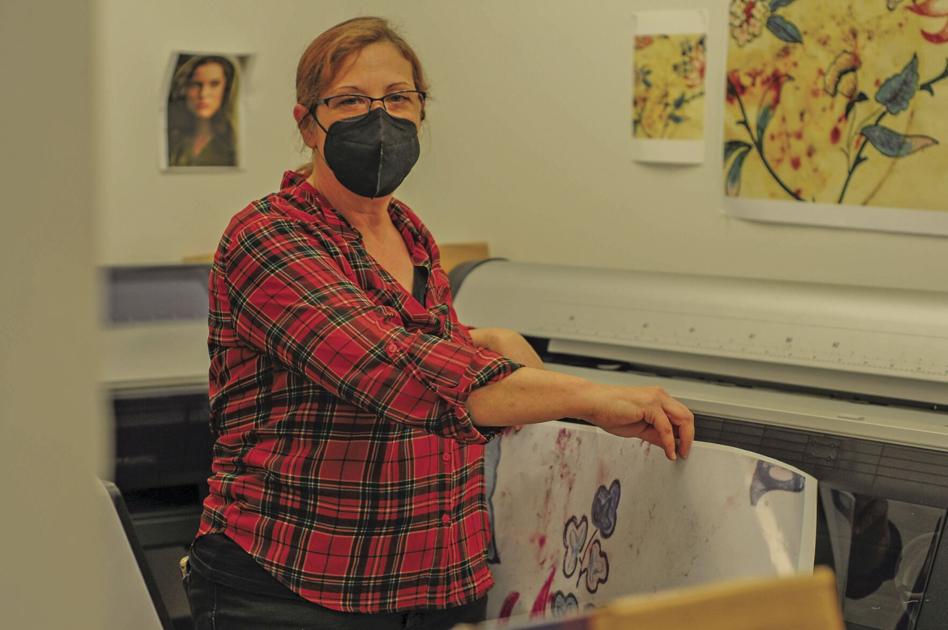 Using her Olympus OM-D E-M10 Mark IV mirrorless camera and a scanner, Corinne Diop, art professor and associate director at the School of Art, Design and Art History (SADAH), creates unique images using non-traditional photographic practices. In particular, she manipulates the photos to make them look like something different – like a painting or a fabric – and forces the viewer to question what he sees.
"Since my graduate studies, I have photographed flat surfaces like the floor or fabrics," said Diop. "I'm interested in the idealization of nature, like patterns made in wallpaper or something from nature that repeats itself. "
This fascination has been with Diop ('84) ever since she obtained her Bachelor of Science in Art from JMU. She said that JMU's art program requires students to take a course in almost all types of media, regardless of their specialty. This allowed her to learn different types of techniques, which she now incorporates into her photography.
Diop said that teaching influences his art just as much as his art influences his teaching. When she started working at JMU in 1989, digital photography was just starting to gain momentum. She started with color film photos and learned new techniques as they came out. It was a big learning curve, said Diop, but it has changed the way she takes photos dramatically.
"In undergrad I was taking pictures of friends doing goofy things, but it was very staged," Diop said. "Now I am making more items than I have found. It's always staged, but it's about the importance of the object.
Diop's process is to create something different from an image. She said she likes to challenge the typical opinion of what is aesthetically pleasing and what is beautiful. Many of her photos are distressed, left outside, painted, or stitched together to create a pattern to create something that doesn't look like a photograph.
Diop's "pandemic harvest", which showcases this process, is presented as part of the annual SADAH faculty exhibition, which will remain open until October 9. The work involves large-scale prints on a large piece of metal with old items like paint cans and lamps on the prints. Diop left the room outside so that anything that is not covered by an object is washed away by the rain and the wind.
"Pandemic Harvest" also incorporates the ability to change over time, as it's never really finished – Diop said part of it could fall to the gallery floor during the show.
"The article is about the pandemic by isolation," Diop said. "Everything felt so abandoned when I went out, much like life during the pandemic. When i photographed [the piece], there was no one. So the way I don't have control over my photos when they are in good weather is similar to how we know the processes [of COVID-19], but there's really nothing we can do about it.
For Diop, seeing the dilapidated images is a symbol for those affected by COVID-19.
"So many people are dying and there is so much disease," said Diop. "There is a kind of sadness in… that impression that was perfect and was meant to last all these years is now all deteriorated and is now stuck to a large piece of trash metal."
Diop teaches her students new techniques so that she can show them concrete examples. She said she spent a summer traveling and learning to use a bigger camera in order to be better equipped to teach her students.
Former Diop student and current SADAH assistant faculty member Sarah Phillips said Diop would always encourage her to step out of her comfort zone.
"She would let you fail in a lot of ways," Phillips said. "If you really bombed a mission, she'd say, 'OK, cool, but what if you pour water on it or let your cat sit on it?' She always wondered how far you could push the image.
Even though her students motivate her, Diop's colleagues say that working with her is "inspiring" because of her openness to share her ideas and processes. Beth Hinderliter, director of the Duke Hall Gallery of Fine Art, said being able to see Diop's vision is "wonderful".
"This has been greatly appreciated over the years for all the energy and dynamic programs she has brought to campus," Hinderliter said. "She brought artists from across the country, and it had an incredible and transformative impact on campus.
Phillips said it was gratifying to see his relationship with Diop shift from a student and teacher relationship to that of colleagues. Diop is like a "mom to her," Phillips said, and she always supports her. She said she could count on Diop when she needed her – like when she wasn't feeling well, and Diop showed up in about 10 minutes with a one-footed sub because "it 'just the kind of person she is.
"She always let me grow up," Phillips said. "I could always ask him about the most ridiculous issues, and now I can talk to him about more adult issues. She also never holds your old self against you.
Seeing Diop and his other colleagues working on college shows is "super fun," Phillips said. She said that since she was Diop's student she has seen Diop's work become more mature and, especially during the pandemic, has seen her focus more on her own art and spend more time in her. workshop.
"Everyone had to shut down for a year," Phillips said. "Everyone was throwing things they didn't need, and [Diop] saw this as an opportunity.
Although the pandemic has suspended much of the art world, Diop said she regularly tries new things and is growing as an artist. Currently, she says, she is working on a set of distressed abstract prints. Diop said she found everyday items on the street like cracks in the sidewalk, rocks or flowers, detonated them and made edits to make the images more unusual.
Diop said this project is a relatively normal photographic process, but it's been a long time since she did something like this – and she's excited to take these abstract prints and document them.
"I ask people to be challenged by what they see," said Diop. "I would expect people to take a closer and longer look at a photo and maybe understand something about it. I am interested in the poetic aspect – like [in] a poem, you don't always know exactly [the meaning], but you get a feeling.
Contact Morgan Vuknic at [email protected] To learn more about the culture, arts and lifestyle of the JMU and Harrisonburg communities, follow the culture office on Twitter and Instagram @Breeze_Culture.