Summer exhibition showcases local works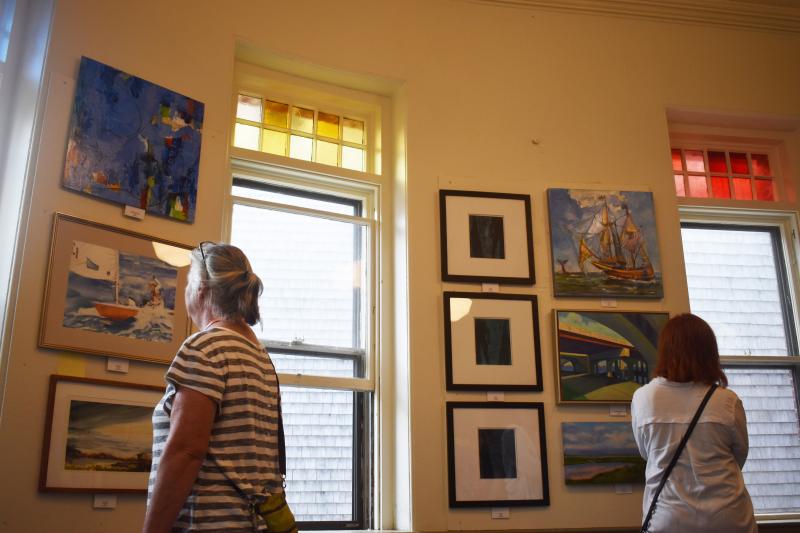 Over the next three weeks, the Dartmouth Cultural Center is hosting 49 paintings, prints and portraits by 18 artists from the region as part of its first member-guest summer exhibit.
The exhibit features a variety of artistic styles such as acrylic, oil and charcoal paintings hung along the walls of the Old Southworth Library Reading Room.
"Everything is so different," said DCC President Pauline Santos. "And the gallery is so full!
The exhibition was set up by the gallery coordinator Jill Law, who said she was "very excited" to hang the paintings around the gallery in the cultural centre's reading room.
"I was really in awe of some of them," Law said. "The sunny harbor next to 'Ferro and Plaits' – just two amazing works."
Westport artist Catherine Hafer drew the "Ferro and Tresses" portrait that Law loved very much.
Hafer noted that the piece was simply a portrait of an old friend from high school who is now a jazz guitarist in New York City.
"He came to visit me while I was recovering from surgery and I told him he couldn't get out of here without sitting down for a portrait," she said.
Another work that Hafer had exhibited was a drawing of a basset hound.
Both were done in pastel and charcoal.
"Normally I work in oils," Hafer noted. "Strangely enough, I have two pieces here that are not. "
Dartmouth acrylic painter Beth Russo had some of her abstract paintings hung in the reading room.
"That's all I can do," she laughs.
Another artist from Dartmouth, Mary Hurwitz, also exhibited some abstracts.
One of the pieces she submitted was a black and white painting she did during the pandemic titled "Isolation."
Rather than painting with a brush, the Dartmouth painter chose to use pieces of cardboard to add texture to the painting. There were also humanoid / alien forms that Hurwitz said he accidentally created during the artistic process.
"I don't usually put numbers," she said with a laugh. "But things always show up, which is so much fun in painting."
Law was very happy to see so many members of the Cultural Center attending what she said was hopefully the first of many summer shows.
"The first year we had a member show, we had virtually no members – the shows were very shallow," she said. "We have come a long way. "
The exhibition operates until September 18. Hours of operation are 11 a.m. to 3 p.m. Thursday to Saturday.