Street Art Trail wins a new immersive piece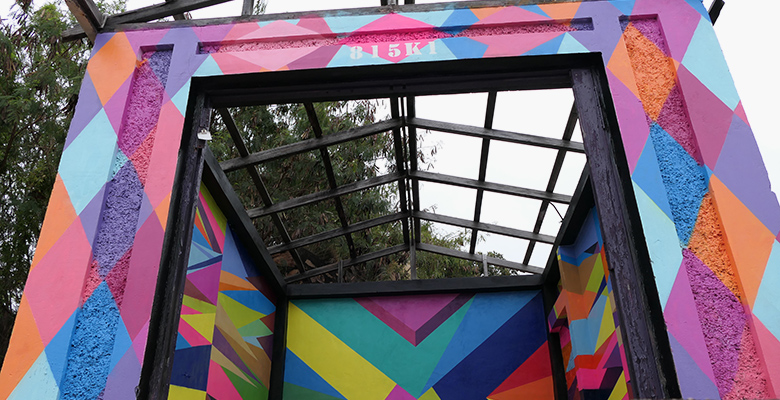 Townsville's nationally acclaimed Street Art Trail has won another piece of public art with the new work Prismatic by artist 815K1.
The new work wraps the interior and exterior walls of an unused building in the Aplin Street Road Reserve, encouraging residents and visitors following the Street Art Trail to explore more of downtown Townsville.
Artist 815K1 said their works "connect people and places".
"This connection attracts an audience, brings communities and businesses together, and raises the profile of the space. The transformation of space is key to creating a connection within the community," they said.
Chair of the council's Community and Cultural Development Committee, Ann-Maree Greaney, said Prismatic was the latest in a long line of famous artwork in downtown Townsville.
"We value inclusive art practices at the Council, which is why we continue to invest in world-class street art from local, national and international artists," said Cr Greaney.
"Having such a unique Street Art Trail is a huge asset to tourism in Townsville, as well as a way to bring locals into the downtown area and activate this space.
"I'm always thrilled to see new artwork added to the route and I know audience members will enjoy Prismatic as much as I do."
Dr. Tony Matthews of Griffith University's School of Engineering & Built Environment and the Cities Research Institute has studied the impact of public art and its use as a place-making device to drive urban regeneration and boost social capital in places like Townsville, Gold Coast and Toowoomba.
"In Townsville, we focused on the CBD and nightlife district where we identified 26 murals on the exterior walls of buildings featuring a range of figurative and abstract styles, bold colors and a mix of paint styles" , said Dr. Matthews.
"Public works of art can indeed help a regional city to develop its core identity and, if the right balance is struck, they can greatly contribute to the creation of creative places and urban renewal.
"Quality public art programs, incorporating the preferences of producers and users, can reflect the confidence and aspirations of cities, as they look to the future while respecting their people and their stories."
For more information on Townsville's Street Art Trail, visit Street art.