Snapshot: Art in Brazil in the Mid-Century | Magazine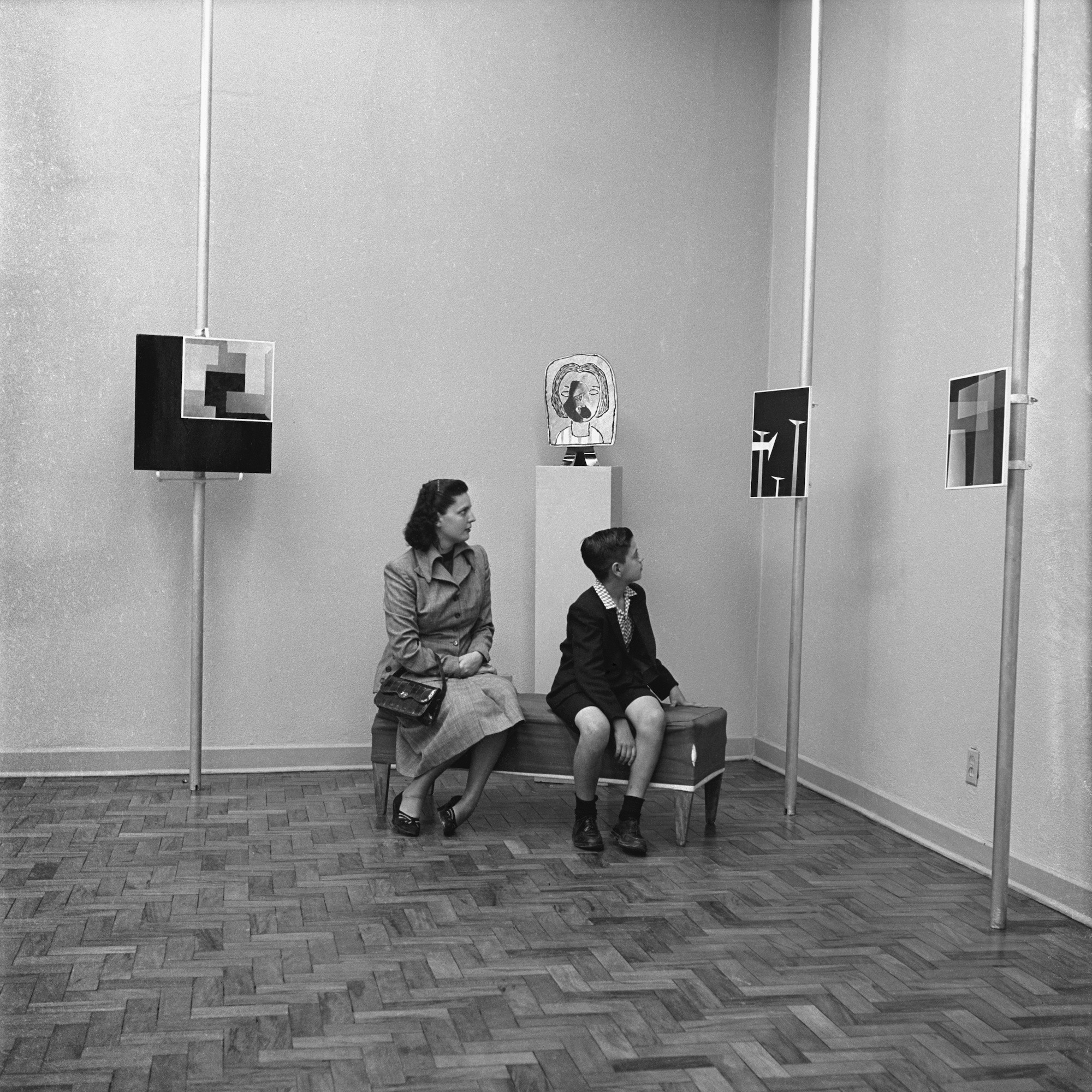 Seventy years ago, the very idea of ​​a museum exhibiting modern art was a challenge for most audiences. To refer to MoMA, or any other museum of comparable focus, as an "institution" at that time would have been to suggest a sense of permanence that belied the precariousness of its circumstances. Until 1953, for example, within the framework of the policy of the Museum, the paintings of Cézanne, Matisse and Picasso, once the artists were considered "established" (and therefore, arguably, more "modern"), would be transferred by a cooperation agreement. from MoMA to the venerable Metropolitan Museum of Art.[1] Such was the cost that a museum such as MoMA had to pay to secure, even temporarily, remarkable canvas donations from generous donors.
Equally tenuous was the status of photography as an art form. Although the founding director of MoMA, Alfred H. Barr Jr., envisioned a museum that takes a versatile approach to modernism, encompassing film, architecture, design, photography, etc., it will take him a decade to persuade the museum administrators to create a Department of Photography (which they did, in December 1940). That the city of São Paulo created not one but two large museums attentive to modern art in the years following the Second World War, and that in January 1951 each of them mounted individual exhibitions of works by young experimental photographers is, frankly, remarkable.[2]
Installation view of Thomaz Farkas, Estudos fotográficos (Photographic studies), Museu de Arte Moderna de São Paulo, July 1949. Above, left: Miguel Forte and Jacob Ruchti; in the center: Thomaz Farkas
On July 21, 1949, the recently inaugurated Museu de Arte Moderna de São Paulo (MAM) opened its doors Estudos fotográficos (Photographic studies), an exhibition of 60 prints by Thomaz Farkas. Although the exhibition was installed in the Salo Pequeno (the smaller of the museum's two galleries) – paintings by Brazilian modernist Cícero Dias filled the larger space – the exhibition design, developed in collaboration with architects Miguel Forte and Jacob Ruchti, expressed the ambition and daring of the artist whose work was featured.[3] The focal point of the exhibition was a long wall against which leaned 24 parallel white supports.
Farkas' photographs have been affixed in irregular patterns to this scaffolding, with a handful of non-image substitutes (light and dark panels of similar scale). Deliberately resisting the characteristics of traditional screens, the frameless panels and photos were installed without a mat or frame, often well above or below the optimal viewing height, their shadows forming asymmetrical echoes against the wall. Photographs from the Farkas series of dancers from the Monte Carlo Russian Ballet (published in Rio magazine, also in July 1949) were mounted on two hollow triangular brackets, one white, one black, each suspended between the floor and the ceiling, in a manner reminiscent of figures twirling on a stage. Some photographs were set on freestanding panels forming geometric patterns in dialogue with the architecture depicted in the images, while other high-contrast rectangular images of varying sizes unfolded along a wall, their top edges aligned. It was apparently an exhibition of photographs, but the viewer's approach to the individual prints was everywhere encompassed in tense and immersive graphic arrangements.[4] Farkas' daring was admired if not fully understood by his comrades Bandeirantes, who reported in the Boletim photo-cine:
Installation view of Thomaz Farkas, Estudos fotográficos (Photographic studies), Museu de Arte Moderna de São Paulo, July 1949
We are delighted to announce that the exhibition of the famous amateur "Bandeirante" Thomaz J. Farkas of his Estudos fotograficos open at the Museu de Arte Moderna on the 21st of this month. It seems that it was only yesterday that fifteen-year-old Thomaz came to us at the FCCB club house, with written parental permission granted so that he could join our ranks. Young Farkas trained at the club, and his promising future in Brazilian fine art photography was evident from the start.
He never conformed to conventions, breaking the shackles of tradition, boldly focusing on the investigation of dynamic and luminous rhythms, his temperament taking him away from the surrounding romanticism. From the start, he boldly broke classical canons to favor substance over form … Not always understood, he was nevertheless admired as an art photographer here and abroad, having established himself as a striking personality and distinctive.
His solo exhibition arouses considerable interest and attracts a large crowd of photography enthusiasts to the Salão Pequeno of the Museu de Arte Moderna.[5]
A generous suite of installation views, presumably staged by Farkas, allows us to fully appreciate the innovation and intentionality of this display. And while it may be immediately obvious that the exhibition design represents a radical departure from the regular grids of matted and framed photos that were standard methods of photographic display, it should be noted that Estudos fotográficos required active viewer engagement and attention to voids and shadows long before these became part of the expectations of the art experience.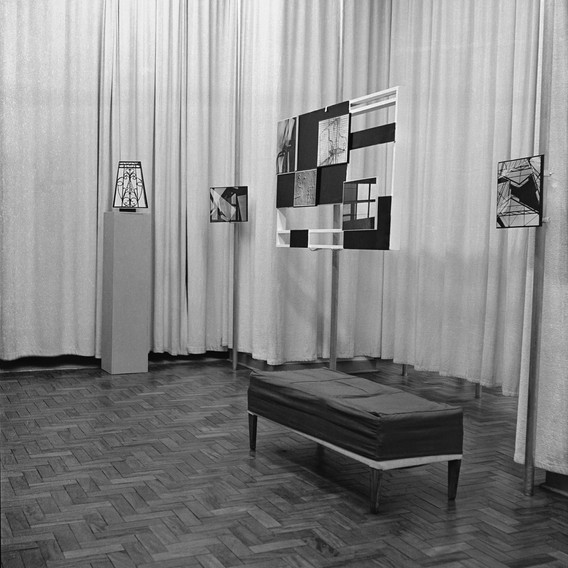 Installation view of Geraldo de Barros, Fotoforma, Museu de Arte Moderna de São Paulo, January 1951
MAM had opened to the public in March 1949 with the exhibition Dosimo ao abstracionismo (From figurativism to abstraction), organized by the Belgian art critic Léon Degand. Although the strict geometries of concrete art are starting to gain traction in South America, especially Argentina, it will be several years before this commitment is also evident in Brazil.[6] Farkas found his abstractions in the architecture and industry of post-war Brazil, and the geometric design of his exhibition at MAM underscored his formal interests.
That it was a photographer and not a painter who anticipated the abstract turn in Brazilian art begins to explain why Farkas' early work rarely takes into account the scholarship of postwar geometric abstraction.[7] A year and a half later Estudos fotográficos, an attentive audience would have encountered another solo exhibition by a photographer whose work presented an even greater challenge to the status quo, in the same building on Rua Sete de Abril in downtown São Paulo. On January 2, 1951, Geraldo de Barros Fotoforma opened at the Museu de Arte de São Paulo (MASP), with some 25 photographs that rested on plinths or were attached to floor-to-ceiling aluminum poles around the perimeter of the museum's temporary exhibition space.[8] MASP had been in operation for a little over three years, and de Barros, who supported himself through a day job at Banco de Brasil, was not quite twenty-eight.[9]
Fotoclubismo is curated by Sarah Hermanson Meister, Curator, with Dana Ostrander, Curatorial Assistant, Robert B. Menschel Department of Photography, and is on view at the Museum of Modern Art until September 26.
Remarks
1) For a fascinating account of these plans and their eventual dismantling (but not before the transfer of several major works), see Kirk Varnedoe, "The Evolving Torpedo: Changing Ideas of the Collection of Painting and Sculpture of The Museum of Modern Art, "in The Museum of Modern Art in the Mid-Century: Continuity and Change, Modern Art Studies 5 (New York: The Museum of Modern Art, 1995), 12-73.
2) To learn more about these museums and the circumstances of their foundation, see Zeuler RMA Lima, "Nelson A. Rockefeller and Art Patronage in Brazil after World War II: Assis Chateaubriand, the Museu de Arte de São Paulo (MASP) and the Museu de Arte Moderna (MAM) ", Rockefeller Archive Center Research Reports Online (2010), np, and Adrian Anagnost, "Limitless Museum: PM Bardi's Aesthetic Reeducation", Modernism / modernity 4, cycle 4 (December 13, 2019): np
3) Helouise Costa's exceptional scholarship is the basis of my understanding of the FCCB. His original research and astute observations concerning Farkas and this exhibition are recorded in "The Photographic Studies by Thomaz Farkas: 70 years of a singular exhibition", in Estudos fotográficos, Thomaz Farkas, 36-61.
4) Among the exhibits that Farkas saw at MoMA the previous fall that foreshadow some of these display strategies are Art in the neighborhood: Focus on the unity of the world (10-28 November 1948) and Photographs by Bill Brandt, Harry Callahan, Ted Croner, Lisette Model (November 30, 1948 – February 10, 1949). Costa notes that Forte and Ruchti had traveled to the United States in 1947, where they saw exhibitions at MoMA and at Peggy Guggenheim's The Art of This Century gallery.
5) Boletim 39 (July 1949): 14.
6) Aleca Le Blanc warns: "It should be noted that if geometric abstraction would occupy the dominant critical position at the end of the decade and continue to dominate the historiography of the period, at the beginning of the 1950s, it is It was a fluid debate, and even in 1953 that position had not yet solidified. The supposed transition from figuration to abstraction in the critical foreground was neither immediate, nor direct, nor totalizing. In fact, what is most important is that a debate like this had a forum in which to exist, and people who wanted to engage in it, in large part through the creation of new spaces for exhibition, art publications and reviews, which together provided a more robust context that could support prolonged public debate. Extract from "Serpa, Portinari, Palatnik and Pedrosa: the drama of an 'artistic moment' in Rio de Janeiro, 1951", Dialogue 20, no. 1 (Spring 2017): 15.
7) The Steichen exhibition Abstraction in photography (MoMA, May 1 – July 4, 1951) is an important point of reference discussed later in this essay.
8) This exhibit design, and in particular the aluminum poles, was typical of Lina Bo Bardi's work at MASP in its original location. See Lima, "Nelson A. Rockefeller and Art Patronage in Brazil after WWII".
9) The most comprehensive consideration of de Barros' work (in Portuguese only) is that of Heloisa Espada Geraldo de Barros and photographs, ex. cat. (São Paulo: Instituto Moreira Salles / Edições Sesc São Paulo, 2014). "Geraldo de Barros: photography as a construction" by Danielle Stewart H-ART Revista de historia, teoría y crítica de arte 2 (2018): 73-92, is valuable both for his research and his analyzes, taken from the first chapter of his thesis at the Graduate Center, CUNY, "Framing the City: Photography and the Construction of São Paulo, 1930-1955 . "See also Geraldo de Barros Fotoformas – Sobras (bilingual edition) (Lausanne: Idpure éditions / Musée de l'Elysée, 2013).