Restoration work erases the smile of a Dutch vegetable seller | Heritage
At some point in the past 400 years, a painting conservator probably decided that the Dutch vegetable seller was way too brooding and should smile. It is now done and it has become enigmatic again.
English Heritage on Friday revealed the results of a two-year conservation project aimed at revealing the true glory of a mysterious, unsigned painting that has been in its stores for more than 60 years.
The restoration work reveals not only the dishonest addition of a reverse smile, but also a jarring strip of dirty sky added to make the canvas square rather than rectangular.
Technical analysis and research also dates it to just before the Dutch Golden Age, much earlier than previously thought, making it very likely that the painting is linked to the important still life painter of the 16th century, Joachim Beuckelaer.
The results of the project were an eye opener, said Alice Tate-Harte, curator of English Heritage collections. "Smiling is such a change. She looks a lot more confrontational, I think, more serious.
The painting was acquired for Audley End country house in Essex at the end of the 18th century and has always been a mystery. The amount of work required to restore it meant there were always higher conservation priorities.
"The frame was chipping off and was very dirty," Tate-Harte said. "The paint had a very yellow varnish on it and layers of dirt… there was also a lot of paint on it, so it wasn't the beautiful object it could be.
One of the most important decisions was to remove a strip of canvas with a poorly painted tower and sky that was added in the 19th century, probably to make the work fit in a square frame.
"It seems like a pretty crazy thing to do. Why not find a suitable framework? But it happened a lot in the country houses, "said Tate-Harte. "Conservation was not really established in the 19th century, so people had a lot more freedom to do these things."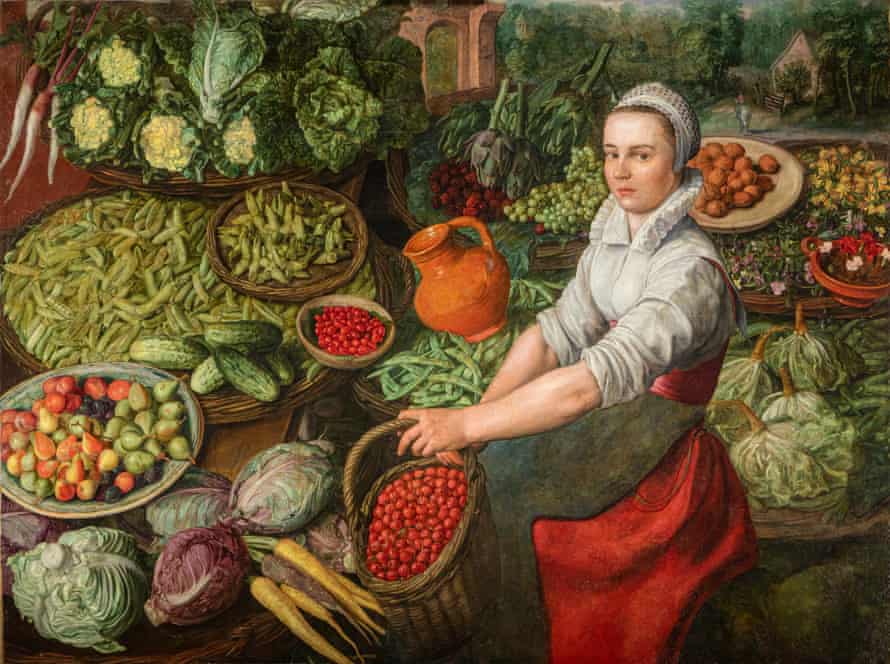 The project revealed the vibrant colors of the painting and the possibility that it could be by Beuckelaer, whose work appears in collections including those of the national gallery and the Prado museum in Madrid.
It looked like a Beuckelaer painting, but luckily not one of his scariest, Tate-Harte said. "In some of his paintings there is a group of characters and you get a slightly lewd man eyeing and thank goodness we don't have that."
The painting was on display at Audley End for the first time in 60 years and the way it was originally designed for the first time in centuries.
Conservation work has been a joy for Tate-Hart and his colleagues. "It's a great project to work on," she said. "We really enjoyed it, it kept us sane during Covid."