JMU tight ends adopt 'jack of all trades' role | Music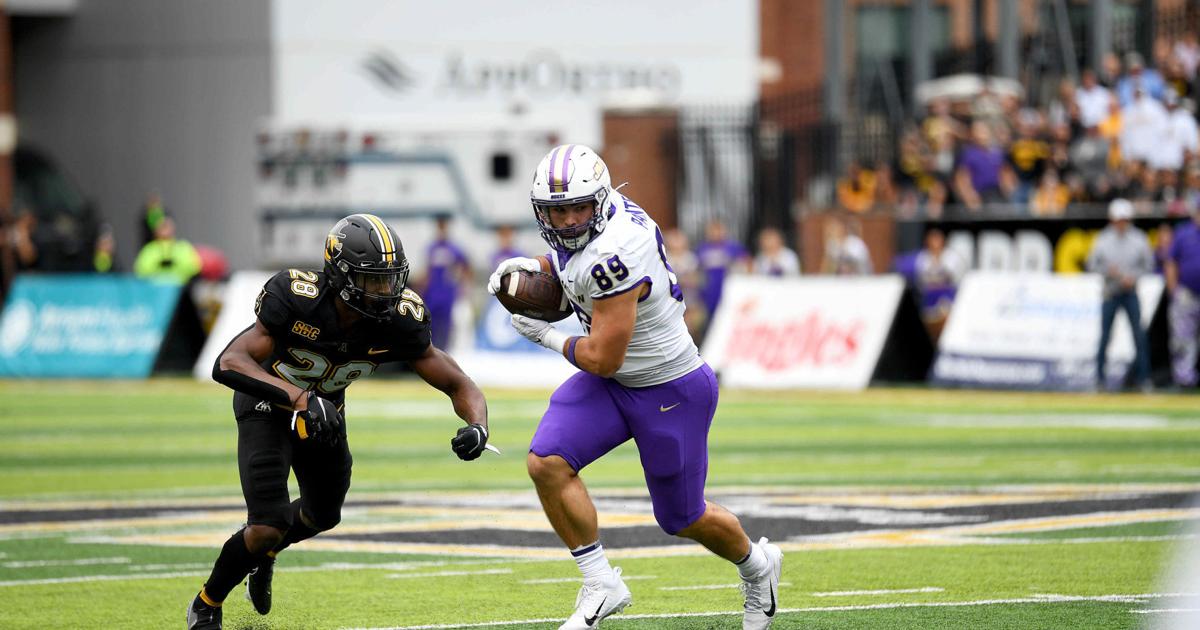 Ask James Madison, tight end Drew Painter, what the job is like with the Dukes and the answer is simple: play a role.
The Dukes' tight ends, led by Painter, have become more involved in the passing game in the first four games, but are a staple of JMU's running game as offensive line tacklers.
For Painter, it is a role that the piece assumes. Whatever the coaching staff asks the tight ends to do, they will do it.
"Whenever the chance to get the ball back comes our way, we're going to make the most of it. If we have to block, we're going to block," Painter said. everything and a master of none Anytime you can impact the game in any way, you want to make the most of that opportunity.
In JMU's 25-point win at Appalachian State, sophomore tight end Zach Horton and Painter each recorded a pair of strikes on the first practice, helping the Dukes' offense move easily down the field.
Those two catches for 12 yards were a career high for Horton and Painter matched his career high with three receptions, which he set a game prior against Norfolk State.
Last season, Painter recorded four receptions all season and quickly topped this fall with quarterback Todd Centeio at the helm.
Centeio, a transfer from Colorado State, used tight end Trey McBride for more than 90 receptions last season with the Rams and found Painter and Horton had their third or fourth reads on offense this fall.
JMU head coach Curt Cignetti said Painter and Horton have been "very consistent" this fall.
"They do a really good job in the running game and the passing game," Cignetti said. "They're both very smart too, so you can give them a lot and the more you can do, the more you can do."
But for JMU tight ends, it's been a learning process. During spring training, seventh-year tight end Noah Turner and Painter were both absent while recovering from injuries. This opened the door for Horton to bring first team representatives with Kelly Mitchell and Cooper Thunnel working with the second and third teams.
Painter said those shots in camp helped the narrow ends room become more well-rounded from top to bottom.
"All three of them, by getting those reps, they've really been able to grow, see things faster, react faster, and play faster," Painter said. "That's the big problem with all three. That's why we have a really strong tight end room.
Turner, the oldest player on JMU's roster, returned to the field in Duke's win over Texas State last weekend.
For Painter, with Turner back on the field, it's like having another coach on the field as the former North Carolina transfer has seen a lot of football in his seven-year career.
"Sometimes having another guy like Noah, who sees what you've seen and being able to talk through stares with him and stuff, that's great to have," Painter said. "He knows the offense and he knows what is supposed to happen, what is happening. It's good when you can get feedback from him.
But with JMU's tight ends blocked, the Dukes managed to head the ball.
Horton is the fourth-best run blocking tight end in FBS, according to Pro Football Focus, while Painter registers at No. 23. JMU is one of four programs that have two tight ends in the top 25.
And Painter has seen Horton grow from a hesitant freshman last season to someone who isn't afraid to fly around the field.
"Zach is great fun to play with," Painter said. "He just runs. He's a bulldog, he puts his head wherever he can. He plays at 110 miles per hour. … We love what he does.
Run blocking has been key for JMU's rushing offense, which is averaging 216.3 yards per game this fall, and Painter said the Dukes' tight ends make it a priority to open up holes for carriers. of balloon.
As he said, run blocking is just one of several roles the Dukes call tight ends to play.
"We're very proud of that," Painter said. "Obviously it's something we do a lot, so it's something we have to emphasize. We take a lot of pride in it and it's what we've built ourselves on. We have to be tough to cook.