In the Spotlight | man Sidman uses his artistry to overcome injuries | New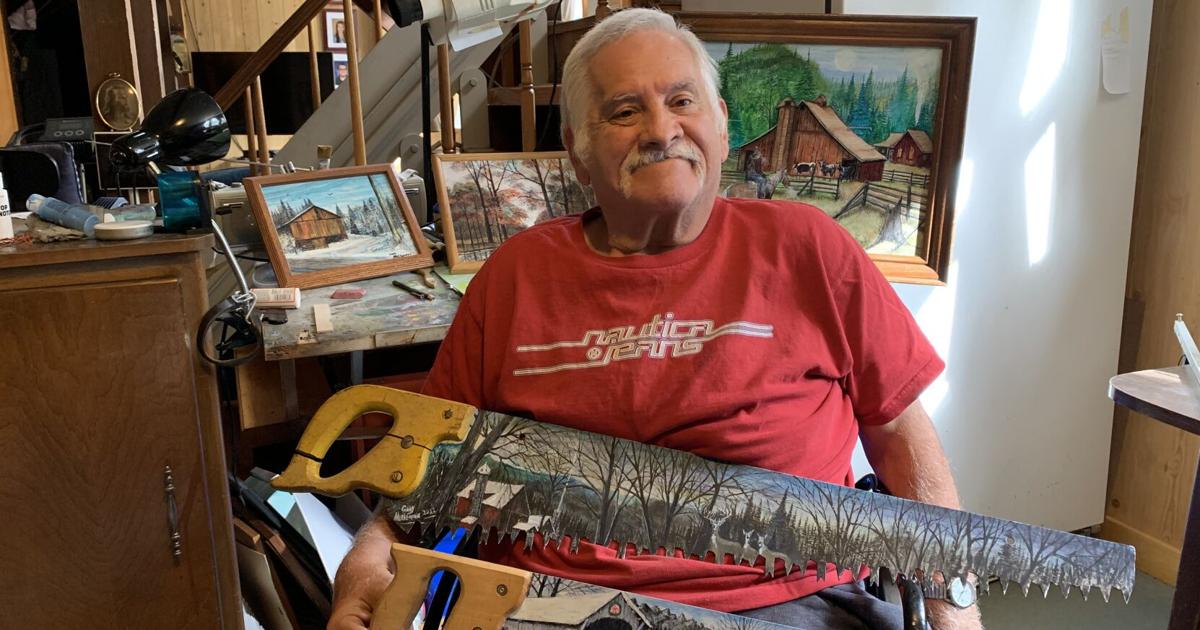 SIDMANPa. – Gary and Jean McClemens of Sidman have seen their share of tragedy. The McClemenses, who have been married for 48 years, consider themselves blessed.
Gary McClemens was an aspiring artist in the early 1970s when he graduated from the Art Institute of Pittsburgh.
But he found work in the field rare.
"I couldn't find work, so I went back to work for my father, who ran a small family sawmill," he said.
On April 7, 2000, life changed.
McClemens worked with his brother, Terry McClemens, felling trees in nearby woods.
"His brother did most of the cutting in the woods and he (Gary McClemens) did most of the sawing at the mill," Jean McClemens said.
"That day he was in the woods helping his brother as they were running out of logs."
Gary McClemens remembers it was "really windy" that day when his brother felled a tree, and without warning, the wood fell on Gary.
"Wrong place, wrong time," McClemens said.
He was airlifted to Conemaugh Memorial Medical Center. He suffered head trauma, a broken back and numerous other injuries.
"He spent four months in hospital, unconscious," said Jean McClemens.
"He was so seriously injured that the doctors did not know if he was going to survive.
"He was at the Crichton (Rehabilitation) Center for months and months," she said.
"Atrophy set in and he couldn't move anything."
Gary McClemens ended up in a wheelchair.
"When we told them he was an artist, they waved his hand," Jean McClemens said.
After much hope and prayers, he was able to move his hand enough to start painting.
Gary McClemens now spends many hours with his brushes and acrylic paints, turning blank canvases into flowers, trees, wildlife, old barns and covered bridges.
The McClemens say they see the hand of God at work every day.
"The Lord has helped me a lot," Gary McClemens said, "because every time I talk to him about what I'm thinking, I start drawing it, and then I start painting animals, old barns and things. that people remember when they were young."
McClemens paints on donated handsaws.
"People give me old saws and I give them to my son, Jason, and he sands them down," he said.
"They tell me what picture they want and that's what I paint."
McClemens considers himself a realist painter rather than an abstract artist.
He uses acrylic paint, which he says dries faster than oil paint. He exhibits his works of art on Facebook.
Besides their son, the couple have a daughter, Heidi Washko, and four grandchildren.
Gary McClemens is pursuing his life's dream.
"Before his accident, he was a workaholic – work, work, work at the sawmill," Jean McClemens said.
"He didn't have much time to read his Bible or pray.
"He can't stand or walk, but now he has time to paint," she said.
"We just thank the Lord for regaining his talent."
The couple attend Emmanuel Church in Richland Township.
"It lifts my spirits and makes me want to paint more," said Gary McClemens.
"I give thanks to the Lord."