Dual exposures | Loretto Museum presenting the works of 3 painters, 1 potter | Features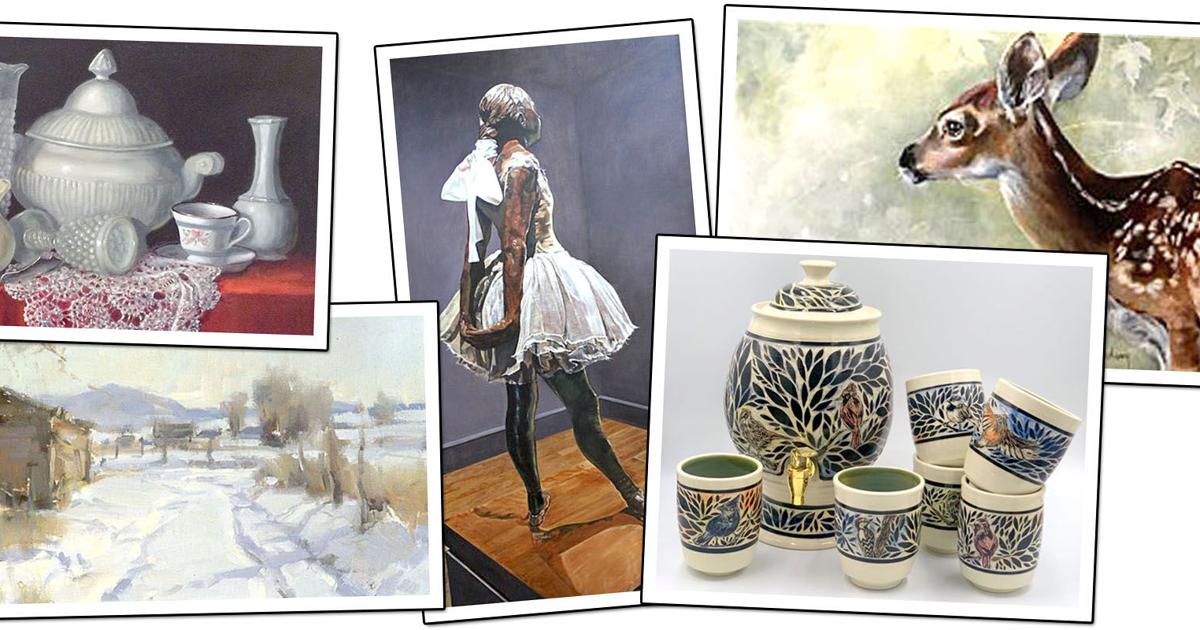 LORETTO, Pa. — A showcase of artists capturing the world as they see it is on display at the Southern Alleghenies Museum of Art in Loretto.
The exhibition "Something 4 Everyone" is presented until June 5 at the Sullivan Gallery, and "The Found Voice in Art" is presented until June 3 at the Margery Wolf-Kuhn Gallery of SAMA-Loretto, campus of the 'St. Francis University, 112 Franciscan Road.
Artwork by Stacy Datsko, Dan Helsel, Diana Williams, and Kim Williams is spotlighted in "Something 4 Everyone."
"The show is about three painters and a potter," said Beverlie Hartnett, registrar of SAMA.
"What's interesting about the four artists is that they specialize in interpreting what they see in a work of art, and they focus on how they apply their particular approaches to art. 'art."
Datsko, a teacher at Northern Cambria Primary/Middle School, fell in love with wheel pottery in high school.
She earned a Bachelor of Fine Arts degree in ceramics from Slippery Rock University, a teaching certificate from Carlow University, and a Masters of Education from St. Francis University.
Datsko creates functional and decorative pottery often marked by influences from faith, nature and outdoor adventures with her husband and two children.
When not teaching, she pursues her artistic passion, pottery, in her home studio.
"She focuses on how the pottery work – whether it is a punch bowl, a mug, a drink dispenser or tea or coffee sets – meets its purpose and how this well-crafted item creates a moment between people," Hartnett said.
Helsel began painting in 1995 after retiring from business.
He enjoys painting in the Old Master style of artists such as Chardin, Vermeer, Rembrandt and Velazquez, and believes the style has an enduring quality and beauty.
Helsel works with real objects in the studio, rather than from photographs.
His paintings can be found throughout the United States and have been purchased by Mount Aloysius College, the Community Arts Center of Cambria County, and the Southern Alleghenies Museum of Art.
Helsel studied at the Sulkowski Academy of Fine Arts.
"His job is to observe and see something special in what could be an everyday object," Hartnett said.
Diana Williams is captivated by the faces, personalities and minds of individuals.
As an artist specializing in portraits and figure paintings, her work showcases her ability to capture a likeness, tell a story, and present a vivid representation of the subject's true essence.
Diana Williams appreciates the time-consuming and specialized effort that is required to create heirloom-quality portraits, which have the potential to become valuable conversation starters and investments toward an archival family genealogy record.
"Her work is figurative studies and portraits, and she tries to capture likeness and convey personality in the moment that is portrayed," Hartnett said.
Kim Williams started creating at the age of 8 when her parents and a teacher recognized her penchant for drawing and painting.
She attended Lock Haven University and the Art Institute of Pittsburgh, earning a degree in illustration.
Kim Williams pursued a career as a designer at The Tribune-Democrat and editor of Johnstown Magazine.
With her 2015 ArtWorks exhibition '365 Inspired Art', she launched her new path of painting fine art and mixed media.
Kim Williams' work is often nature-themed, with strong layout skills, and has been described as honest, exuberant, full of integrity, spirituality and joy.
"She focuses on wildlife and landscapes and paints what she observes," Hartnett said.
"There are 119 pieces arranged in a grid, and each of the paintings is made to look like a piece of mosaic, so when you step back it looks like a blue heron in flight.
"There are fascinating layers to his work."
A reception will be held from 5 to 7 p.m. on May 14 and artists will be on hand to speak.
"By inviting artists to discuss their work, it helps people understand art and why it matters," Hartnett said.
Refreshments will be served.
Reception is free and open to the public.
Registration is suggested and can be done online at www.sama-art.org.
The exhibition "The Found Voice in Art" features 70 works from SAMA's permanent collection and showcases a full spectrum of unique voices.
The exhibition is curated by painter and collector Fred Danziger and includes pieces by American artists such as Charles Burchfield, Alice Neel, George Bellows, Jacob Lawrence and Ben Shahn.
"He (Danziger) made selections of paints and assemblages," Hartnett said.
"His philosophy answers the questions of: 'What is art? How do individual artists interpret what their art is? And how did the artists find their voice? "
The works were created between 1900 and 2018 and include landscapes, still lifes, surreal dreams, social criticisms and abstract contemplations.
"Each piece says something the artist is committed to expressing," Hartnett said.
"They use different ways of the artistic method to communicate with the viewer."
She said that viewers will see a variety of art and it will look like an investigation into an art history class.
"Often, permanent collection exhibits are about a theme, an artist, or a movement, but it introduces people to something that they might not have considered artistically significant," Hartnett said.
"They can see why people do still lifes or abstract art, and there's still technique and decisions made for the composition to create something harmonious, striking or dynamic."
Danziger will offer a virtual tour and discussion of the exhibit at 5 p.m. on May 14.
"He will explain why he chose what he did and offer information about the artists featured in the exhibit," Hartnett said.
Registration for the free event is required at www.sama-art.org/event-list to receive the Zoom link.
A recording will be provided to registered guests after the event.
Gallery hours are 12:00-4:30 p.m. Wednesday through Sunday.
The museum is open to the public free of charge.
For more information, call 814-472-3920 or visit www.sama-art.org.