Dartmouth artisans showcase their works on annual Art Drive tours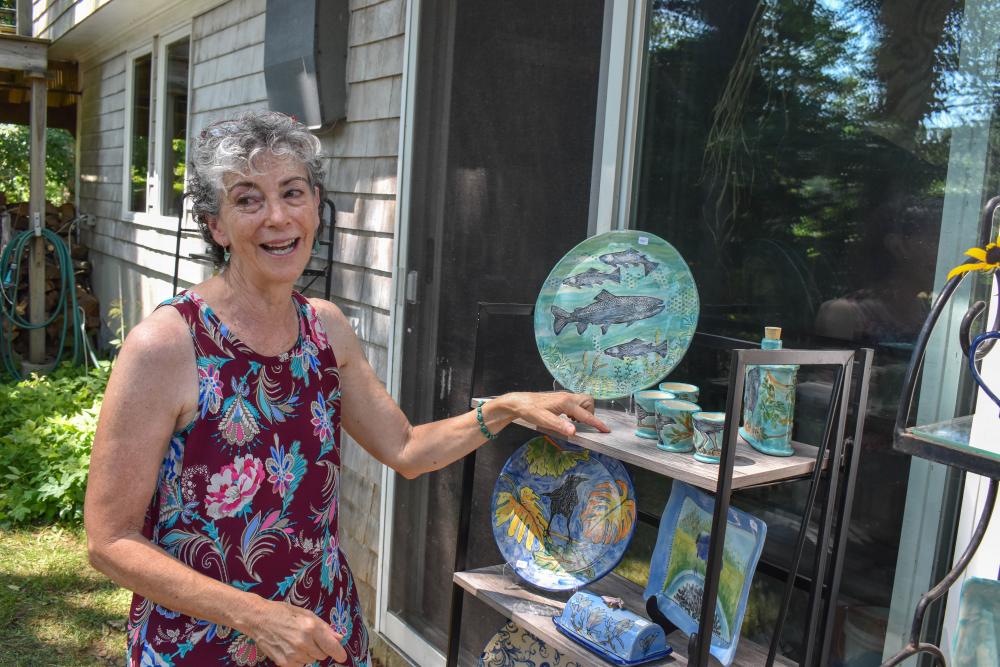 This weekend saw the return of the Art Drive to the roads of Dartmouth.
The event, now in its 14th year, featured 27 artists from Dartmouth and Westport who opened their homes and yards to showcase a variety of media.
Painter and printer Judith Klein brought a collection of her work from her Kilburn Mill studio in New Bedford to her backyard on Merrymount Drive. Her works included abstract seascapes she saw from her New Bedford studio window as well as portraits of her friends.
All of these paintings, Klein said, are done through live sketches. While working from a photo is an option, she said the images tend to be "frozen" and it's hard to transfer emotions onto the canvas.
"When you work from a sketch, you've got it done," she said.
With her prints, Klein said she starts by carving an image out of wood or linoleum, then applying a paint roller to maintain her design. When exhibited, these were usually small prints of fruit or cats.
"People love the cat," she says with a smile.
These are all techniques the Romanian-born Dartmouth resident said she learned at art school in countries like Israel and Italy.
"I've done this pretty much my entire adult life," she said, adding that she's currently taking private art lessons.
Wendy Goldsmith, who taught at Friends Academy, also chose to showcase her pottery outdoors at her Gaffney Road home, with dishes, cups and flasks all made with her own two hands.
"I don't use a wheel anymore," she said.
The Dartmouth resident fell in love with pottery while a student at UMass Amherst. She said she particularly enjoys the challenge of creating something that tends to be different from how it was originally imagined.
"You have to be flexible and persistent," Goldsmith said of her craft.
Most of her custom dinnerware features her favorite animal: birds.
"I love their expressions, shapes and colors," she said. "They are everywhere and happy."
Some of the birds are from his imagination, while other depictions are from cameras attached to feeders.
"They just look at it and have this whole attitude," Goldsmith said.
The bird designs seemed to prove popular at the Goldsmith stop, as throughout the second day of the journey she noted that it was not easy to keep up with demand for her plates.
"Things are flying out," she said.
On Rock O'Dundee Road, painter Sarah Daughn hung many of her abstracts and cityscapes from her time in Providence – with a few paintings using her daughter Jessica Godbey as a model.
"I had it posed everywhere," Daughn said.
Her daughter, however, sees these works and cannot believe how dated her style was.
"That's when I still had a perm," Godbey said with a laugh.
Daughn, who still teaches at the Rhode Island School of Design, does a variety of styles, including collages, watercolors, and oil paintings.
About 20 years ago Daughn and her husband moved to Dartmouth, which she says completely changed the way she approached painting, as it led her to focus more on natural beauty than a topic.
"It's a beautiful place," she said. "I hope it will stay [this way]."
The Art Drive continues Sunday, August 7 from 10 a.m. to 5 p.m. For the full list of this year's participants and a map of the artists' workshops, visit the-art-drive.com.