carlo ratti builds a traditional italian farmhouse around a ten-meter-high tree
a house built around a tree
carlo ratti associati (CRA) unveils 'greenary', a private residence built around a ten-meter-high ficus tree. located just outside the city of parma, italy, the project takes the form of a traditional farmhouse renovation, showcasing new approaches to blurring the lines between the natural and the artificial.
the accommodation was commissioned by francesco mutti, CEO of mutti, the leading european producer of tomato-related products. The project advances ARC's research into new ways to merge architecture, natural elements and advanced technological solutions.
all images are courtesy of delfino sisto legnani and alessandro saletta of studio dsl
man and nature have come closer
built on a site that spans over 2.5 hectares (25,000.00 m²), the project includes the renovation of the main residential unit, as well as the conversion of a pre-existing attic into a workspace. the 'greenary' (which is a pun on 'green-granary') is designed to address the idea of ​​biophilia, a scientific hypothesis suggesting that humans share an innate desire to live close to nature. this concept is expressed mainly in the 60-year-old ficus tree which stands in the middle of the living space. it belongs to a species called ficus australis which enjoys stable temperatures all year round and is therefore well suited to indoor living conditions.
to form the perfect setting for the tree to flourish, carlo ratti associati (read more here) completely renovated the old farmhouse to maximize natural light, installing a ten-meter-high glass wall oriented to the South. Taking advantage of the surrounding area's microclimate, as well as multiple technological features, the design controls temperature and humidity, so occupants and the tree can live together comfortably. In addition, all windows and the roof can be opened and closed automatically to adjust the amount of sunlight and fresh air entering the home.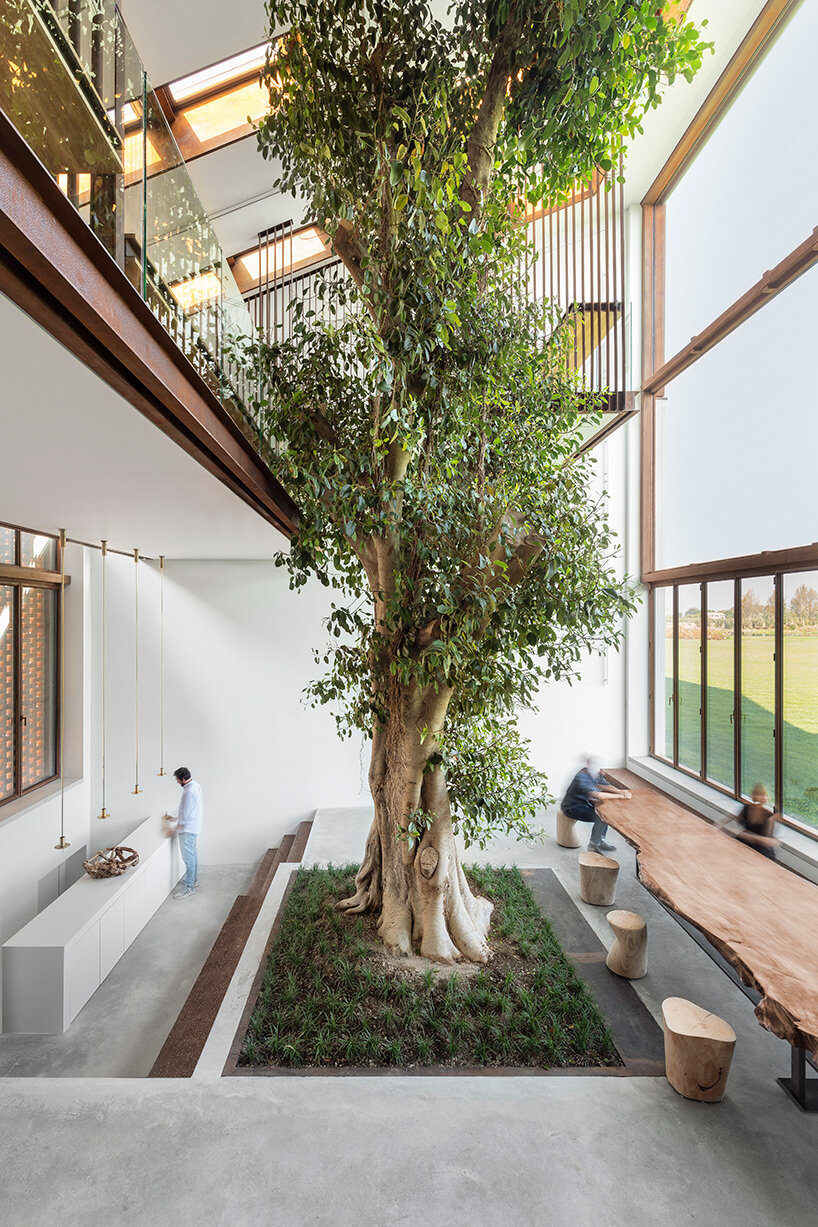 reinterpreting the theories of 20th century architects
the renovated home consists of seven terraced spaces, taking the form of dynamic and interconnected rooms that reinterpret the raumplan theory of 20th century architect adolf loos – with nature at its heart. on arrival, residents descend a meter down to the main living room and kitchen, which puts them at eye level with the idyllic meadow outside. the other levels of the house have been designed to guide individuals through a naturally inspired journey, in which the tree serves as an important pillar. nature is also incorporated in other forms in the interior, such as in the flooring which incorporates earth and orange peels.
"The 20th century Italian architect Carlo Scarpa once said: 'between a tree and a house, choose the tree'. as I resonate with her sentiment, I think we can go one step further and put the two together, ' says carlo ratti, founding partner of CRA. "Much of the work of the ARC focuses on the intersection between the natural and the man-made worlds. with greenery, we try to imagine a new domestic landscape built around nature and its rhythm. '