Artist profile | "Mapping the Void" with Steel and Wood • The Yellow Springs News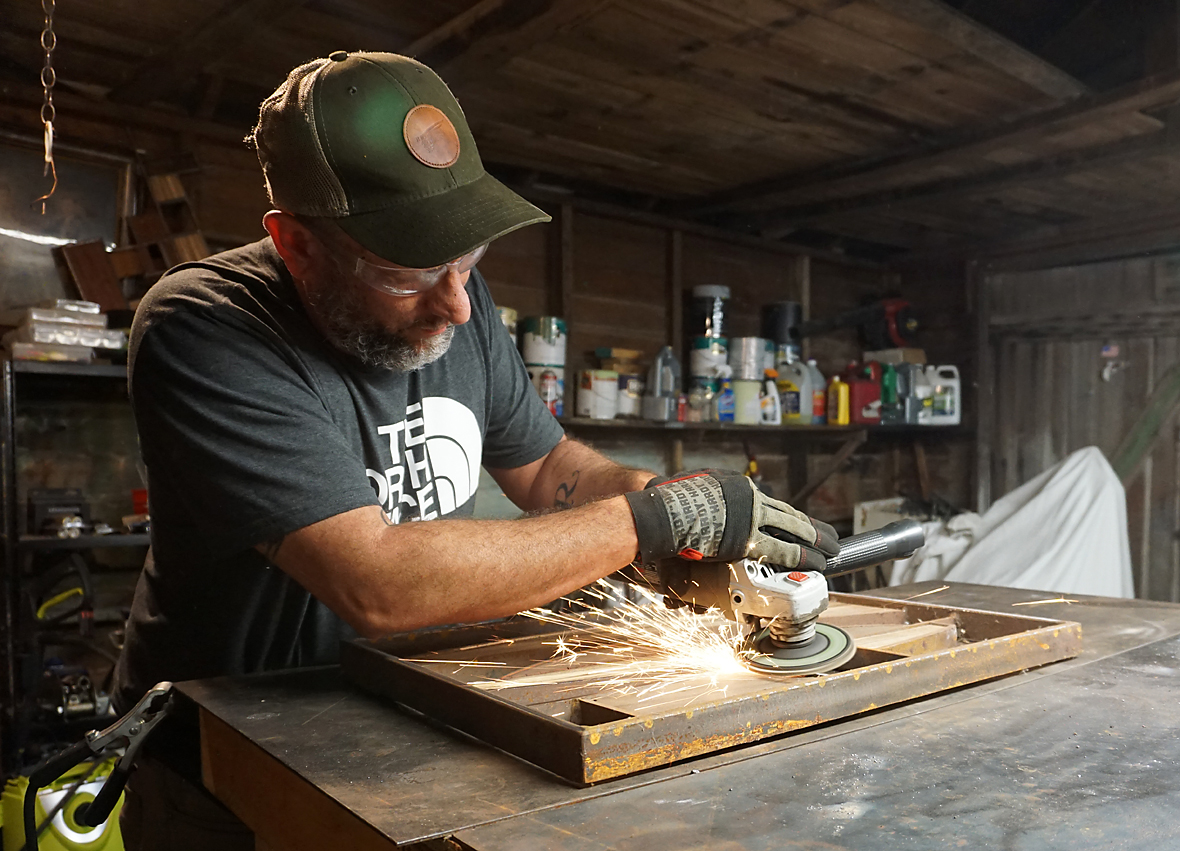 A cluttered workshop can seem like the last place to make sense of a world in so much mess.
But somewhere among the piles of rusty junk and mounds of sawdust in his tiny garage, local artist and fourth-generation welder Seth Ratliff perfected a craft that allowed him to find order in all the chaos. .
Over the past few years, Ratliff has carved out a style and process of sculpting all of his own. By fusing reclaimed wood and recycled steel from sheds and garbage cans, and aligning these pieces to create intricate patterns, Ratliff creates abstract sculptures that produce new and often surprising geometries.
In a recent interview, Ratliff described his approach to creating his abstract art as an exercise in juxtaposing the concrete and the conceptual.
"I've always tended to be abstract," Ratliff said. "I think about space a lot, literally and figuratively. This is where all of my sculptures begin.
Her sculptures synthesize contrasting elements such as rigidity and fluidity, movement and stillness, masculinity and femininity, emptiness and fullness. Ratliff described his approach to abstract art sculpture as an exercise in keeping these things in tension.
Although he was a longtime welder and manufacturer in many mediums, Ratliff began fusing wood and steel in 2017. Inspired by the cartographic patterns and geometry of a Cincinnati map, he has spent several years ruminating on how he might incorporate a similar aesthetic into his work. One day, as he was trying to clean his garage, a pile of old wood and steel on the floor caught his attention.
"I picked them all up, put them on my bench and started putting the pieces together like a puzzle," Ratlif said.
He had found gold.
Since that "eureka moment," Ratliff's work has gained notoriety both inside and outside of Yellow Springs. In the fall of 2020, Ratliff exhibited a dozen of his sculptures at the Yellow Springs Brewery, all of which were sold. Over the next year, he continued to sculpt and make commissioned parts under a new name: Hammer & Iron Studio. Its social media pages have attracted nearly 1,000 fans.
Despite his growing reputation on the local art scene, Ratliff said his sculpture continues to be a more personal work of soul-searching and psychological exploration.
"It's almost a Zen process," he said. "It taps into that part of me where the ego and the id meet."
The making of a maker
A resident of Yellow Springs for decades and a native of Waynesville, Ratliff has spent his life honing his creativity. Since his youth, he has experimented with all kinds of mediums: drawing, illustration, painting, photography, music and more. Due to his family's multigenerational welder trade, Ratliff fell in love with the more material arts early on.
"Some of my first soldered projects were metal roses that I would make for girlfriends," Ratliff said with a laugh. "You know the cheesy Hallmark stuff. "
Ratliff said welding has been one of the consistent things in his life that just makes sense to him.
"It's always done for a good job," he said. "I have never been unemployed."
After graduating from Greene County Career Center in the late '90s, Ratliff quickly found himself drawn to Yellow Springs, which he described as a hub of creativity. While working a job in the kitchen at Ye Olde Trail Tavern at night and welding during the day, he began to meet and collaborate with artist and creative students attending Antioch College.
"I realized right away that this was where I wanted to be," he said.
Now based in Yellow Springs with his son Victor, Ratliff commutes between his work in Cincinnati as a mechanical engineer designing air compressors for the Japanese company Anest Iwata.
"My job is mostly office-oriented, so it's nice to come home and walk into my own shop at night," Ratliff said.
"Carving is my therapy, man," Ratliff explained. "If I'm having a hard day at work or I'm anxious, going out to my store can be such a relaxing time, put on some music, have a beer or two, sketch out a few ideas and make them come true. a reality."
Ratliff said that abstract sculpture allows him to materialize the existential turmoil he sees in the modern age.
"This kind of work is important to me," Ratliff said. "In today's world, doing something real and tangible is one of the few things that makes sense. When I turn on my welder or cut a piece of pine, I almost forget all of those crazy things going on there.
Even amid the ongoing COVID-19 pandemic, Ratliff's sculpture has kept him "grounded and sane."
"During the pandemic it was a challenge," he said. "We are all mentally and spiritually exhausted. Doing this thing in my store, putting the pieces together helped me hold the line and keep going.
"Not to mention that I had a lot more free time to work on stuff last year," he added.
Ratliff said he hopes people, watching his work, will feel the same kind of serenity and peace that he experiences realizing it. He said he wanted people to think differently about geometry, form and function.
He asks, "If you were to map a void, if you had an empty space and you had to map it, what would it look like?"
And another request that Ratliff is asking of local patrons: contact him with any leads regarding scrap wood, especially pine, walnut or oak.
"I'll take wood all day," he said. "I'll even come get him.
To see more of Ratliff's sculptures, visit the Hammer & Iron Studio Instagram page at @hammer_iron_studio or on Etsy at http://www.esty.com/shop/hammerandironstudio. To inquire about orders, carvings for sale, or to donate scrap wood, contact him directly at [email protected]