Artist creates 'Sh * tty Plants' poster found in Vancouver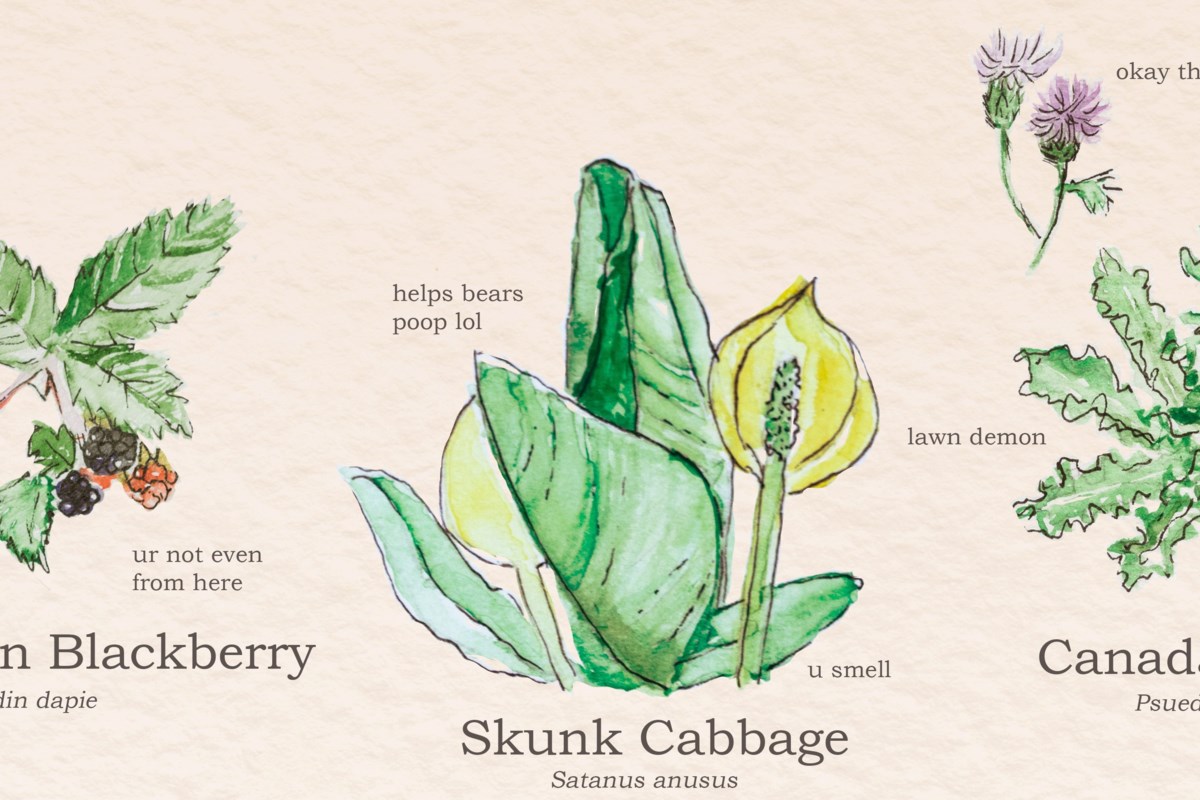 There is no doubt that most Vancouver residents have had unfortunate incidents of getting stung by a nettle, stepping on a Canada thistle or catching an aromatic smell of stink cabbage.
If it's not one of those three, there's a good chance that one of the other five plants featured on the "Sh * tty Plants of the Pacific Northwest" has made locals worse. This is why Sarah Keller chose to represent them on a new poster that she created.
"These are the plants that I thought of when I thought of plants that are irritants," she says. "Those who are in the foreground. "
Keller is a teacher in Squamish (having lived in North Vancouver and Vancouver previously) and a part-time painter. She was inspired to create the poster by two things: a trip to Tofino and the use of vintage-style posters to teach plants.
"In fact, I use them a lot in my class and I use them as references," she explains to Vancouver is awesome. "But I realized a lot of trees and wildflowers that we don't have in this area, so it's not very relevant to the students."
As an educator, she enjoys teaching ethnobotany and plants.
"I really like connecting the kids to the plants in the area," she says.
As an artist she thought she was creating her own, but before that happened she and her partner took a trip to Tofino where some of the less impressive plants made an impression, and over the summer, she decided to create the 'sh * tty' poster.
"I think the coolest thing is that everyone has experience with at least one of these plants," she says, describing her childhood memories of the "earth demon" Canada Thistle as a child. The pointy sole made quite an impression on her feet.
In addition to the aforementioned thorny, stinky, and pungent plants, there are things like Scotch broom and giant hogweed. In addition to the watercolor and ink illustrations, Keller included Latin names, such as Satanus anusus for the stinking cabbage and Bloodin dapie for the Himalayan blackberry.
There are also little descriptions, like "land jellyfish" for nettles, "ow prickly wtf" for Devil's Club and "help bears poop lol" for stink cabbage.
"It's so silly, the whole time I did it, I laughed at my own jokes," Keller says.
She plans to sell prints but decided to share them on Reddit first. She was a little surprised at how the article connected people in this forum.
"So far people love it," she says. "I think the coolest thing is that everyone has experience with at least one of these plants."
While this one doesn't go to class, she still hopes to create more along the same lines, with a vintage layout and local flora and landmarks.
"I'm currently working on the Sea-to-Sky poster mountains," she says. "And I also want to make wild flowers, trees and mushrooms."
One thing she is aware of with the 'Sh * tty Plants' poster and plans to incorporate into her future work is an indigenous aspect. This first poster was intended as a silly and fun piece, but future work will incorporate local names and First Nations connections into the elements pictured. She is now seeking to work with the Squamish Nation, including an ethnobotanist, to include the medicinal properties or uses of plants. In the case of mountains, she would like to include the names of local First Nations.