Amir Nour, patient sculptor of contemporary African art, dies at 84 | Obituary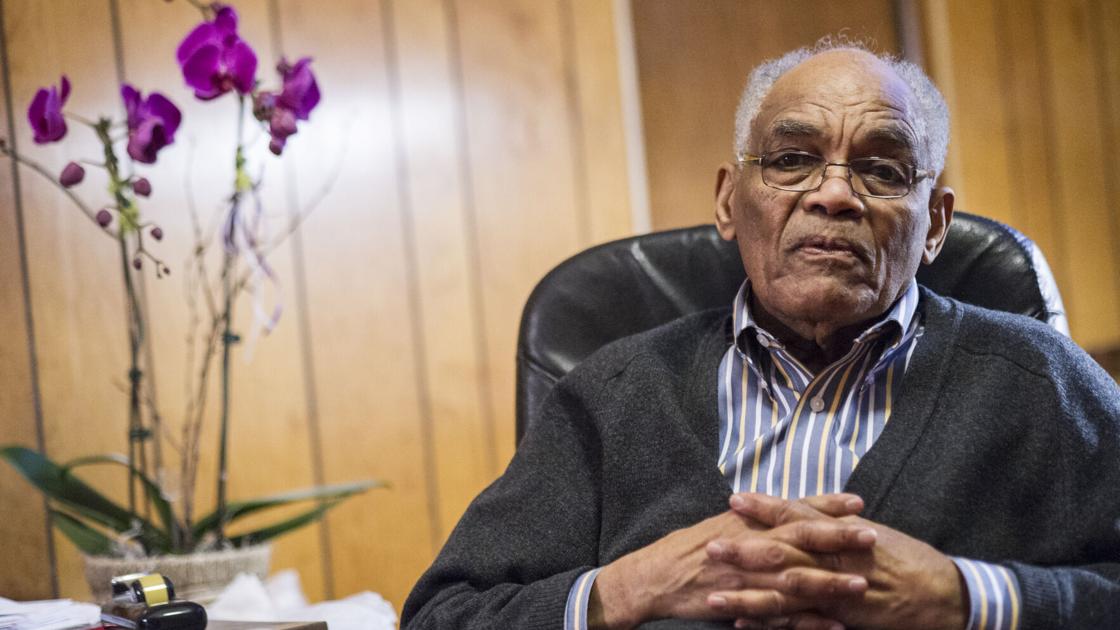 World famous and longtime sculptor Hyde Parker Amir IM Nour, 84, has died suddenly at his home. Nour's work as an artist, teacher and scholar has gained international recognition and is recorded in books, journals and magazines. His sculptures have been exhibited in the United States and around the world, including Germany, the United Kingdom, Monaco, France, Cuba and the United Arab Emirates. Several pieces are on permanent display, including two pieces in the collection of the National Museum of African Art, Smithsonian Institution, in Washington, DC, and landscape sculptures in Morocco for UNESCO and one on the south side of Chicago. Many of his small pieces are in private collections.
Nour is considered a pioneer of Contemporary African Art. Born in Shendi, Sudan on April 26, 1936, Nour was inspired by his cultural heritage, Nubian history and Afro-Islamic origins, as well as his childhood experiences in Sudan. Combining these memories with his Western upbringing, Nour used a variety of modern industrial materials, including bronze, to express his aesthetic ideas. The Washington Post praised his work, writing that "it's voices like Nour's that rise above the commotion and sing a loud, clear solo."
In 1957 he graduated from the School of Fine and Applied Arts in Khartoum where he later taught from 1958-59 and 1963-65. Nour graduated from the Slade School of Fine Art at the University of London, UK, and completed a postgraduate course in sculpture at the Royal College of Art in London. A Rockefeller Fellowship brought him to the United States in 1967, where he obtained a BFA and MFA from Yale University. For many years he taught art at Chicago City Colleges. In 2006 he took a leave of absence from Truman College and obtained a doctorate. in History of African Art from the University of St. Andrews in Scotland.
In 1971 Nour was recruited to Yale and moved to Hyde Park while teaching at City Colleges and lecturing at many local and international universities. He married Ann Morrison (from Edinburgh, Scotland) whom he met while a student in London. Ann was a physiotherapist at the Schwab Rehabilitation Institute, and in 1980 she became director of rehabilitative medicine at the Osteopathic Hospital in Hyde Park. Their daughter Amna graduated from University of Chicago laboratory schools in 1999, later following in her father's footsteps to earn a postgraduate degree from St. Andrews.
According to his wife, Ann, he was "proud of his Sudanese heritage, which, like a river, flowed through his body and his mind, forever. From watching sheep return from distant pastures in the desert to the abstraction of an ancient Nubian wooden lock, it permeated his work. She remembers her patience in both her research, her art and her life. "Amir always sought with great diligence to better know and understand the world around him. He was a proud and adorable family man.
More recently, a retrospective was organized by the Sharjah Art Foundation in 2017 in the United Arab Emirates. This in-depth study of five decades of Nour's work celebrated his role as an international figure not only within the African art movement, but within the global contemporary and modern art movements. Although often referred to as minimalist, Nour liked to say that Africans were minimalists long before it became a technique. The retrospective "Brevity is the soul of the mind" is a free translation of an Arabic proverb he used to describe his practice and its divergence from minimalist ideas. He often used geometric or hemispherical shapes rooted in the context of history, environment and tradition. His work reflected his ability to integrate methods, techniques, forms and ideas drawn from his experience as a Sudanese living in the West.
Amna Nour highlights the many books and articles that deal with her father's significant and unique contribution to the art world. "Descriptions of his work almost always include the deep connection he had to his hometown of Shendi, as well as the importance and influence of his heritage and culture on his work and his life," she says. . However, he also had a strong desire to give back and enable others to succeed, which was reflected in his teaching. "As a father he was so close and dear to me, there are no words that can express how precious and loved he was by his family. I think he will be remembered for his work. But for those who knew him, his sense of humor, his great wit, his thirst for learning and his immensely generous and kind heart are what will be missed.
At the time of his death he was retired but was still creating sculptures. A memorial is planned for next spring.