American painter George Condo holds his biggest Asian showcase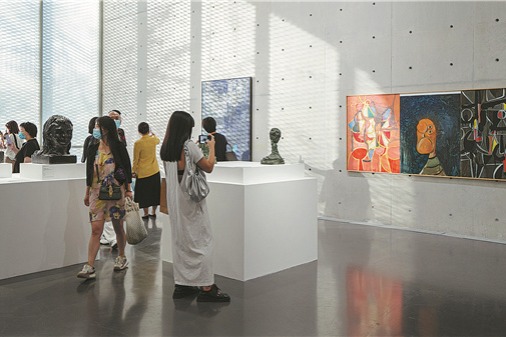 Artist George Condo, renowned for his figurative and abstract works, is organizing his largest exhibition in Asia at the Long Museum West Bund in Shanghai. The Condo exhibit, originally from the United States, will run until November 28.
George Condo: The Photo Gallery features over 200 paintings, sculptures and drawings by the 64-year-old. The curator of the exhibition, Massimiliano Gioni, organized the works into series and cycles, presenting Condo's most famous paintings alongside rarely seen works.
Gioni led reporters on a virtual tour via an online meeting on September 25, as he and Condo cannot travel to China due to the COVID-19 pandemic. The title of the exhibition was borrowed from a painting by the artist in 2002, according to Gioni.
"The exhibition was conceived as a gallery of imaginary portraits: a living room of fictitious ancestors and fallen members of an imaginary aristocracy hung in the cavernous galleries of the Long Museum, as in the rooms of a futuristic decaying castle" , explains Gioni.
Born in 1957 in New Hampshire, Condo began learning to draw at the age of 4. He then studied art history and music theory for two years at the University of Massachusetts and eventually became fascinated with Baroque and Rococo paintings. Encouraged by a professor to pursue his true passion for painting, Condo left college but later found he was more likely to be successful in music than in art.
Condo quickly joined the rock group The Girls in Boston and, in 1979, met Jean-Michel Basquiat, the neo-expressionist star of the New York art scene of the 1980s. Basquiat, at the time, was part of a band, Gray, who opened for Condo's band at a Manhattan nightclub. Condo and Basquiat get along immediately and the latter quickly convinces Condo to move to New York. Together with Basquiat and American artist Keith Haring, Condo has become a central figure in the East Village art scene.
In the early 1980s, Condo's approach to painting combined influences from Cubism, Surrealism, and other 20th-century avant-garde movements with cartoon characters and vernacular imagery, ushering in a new type of figuration, which the artist has defined as "artificial realism".