'A Color Study' | Culture & Leisure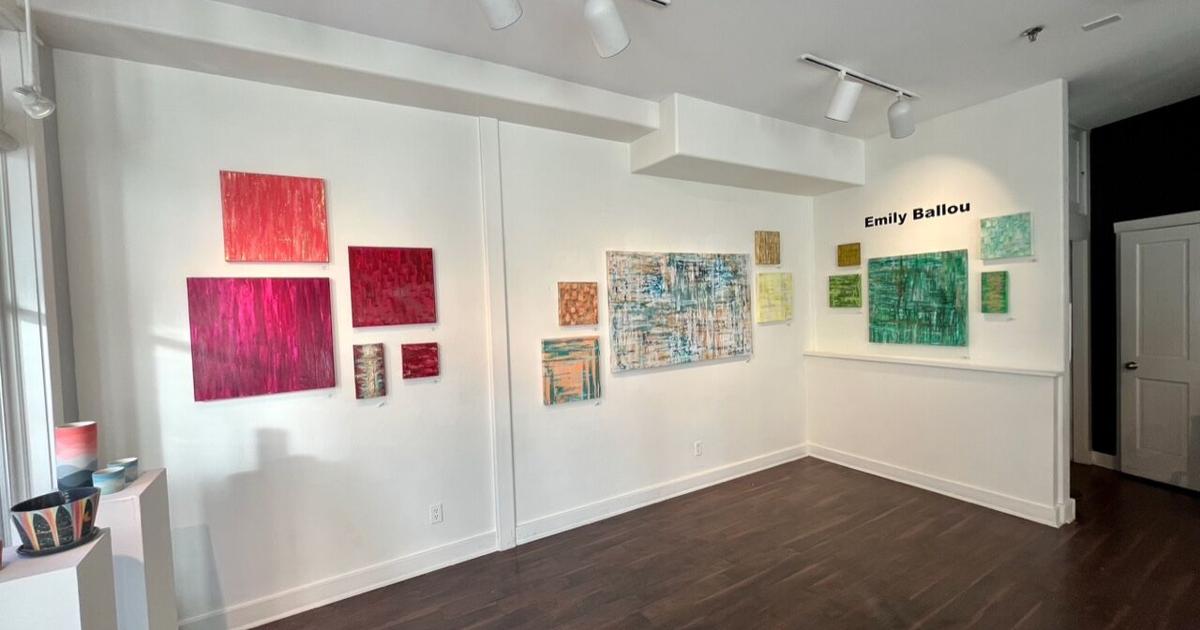 On Thursday afternoon, local painter Emily Ballou was the featured artist at the Telluride Art Walk opening reception. His work will be at Telluride Arts HQ in March and April. Ballou uses acrylics and various textures to create abstract paintings.
"I think with painting abstract pieces, at least for me, it can be kind of therapy. I'm going to start a piece, and I have no idea how it's going to end, and that's just a very different practice from other types of painting," Ballou said.
The gallery features 31 of Ballou's paintings. All but two of the rooms were painted for this exhibition. The other two pieces Ballou created for the Cabins public art installation in Mountain Village in late November. For the Mountain Village installation, Ballou combined paints, which were then transferred to the wrapper that now adorns a dining shack in Mountain Village. Ballou's cabin is lined in light blue and incorporates beige and dark blue lines. While the cabin has been on display for months, Thursday marked the debut of its original paintings.
Ballou uses acrylics and textures like gold leaf, varnishes and inks to add an extra dimension to his paintings. She worked on the new pieces at the Ah Haa School, which recently launched an open studio painting pilot program. With two young children at home, Beau, whose birthday is Friday (Happy 6th birthday Beau!) and her 4-year-old Ellison, Ballou enjoyed the program very much.
"I was so grateful to be able to paint there. It's an amazing space," Ballou said.
The 31 paintings were an opportunity for Ballou to step out of his comfort zone. She explored and worked with colors that are not usually part of her wheelhouse for the exhibition. Ballou described this exhibition as "a study in color". Each piece is named after the emotion and feelings that Ballou thinks it evokes. The paintings have names like resilience, vigorous, eternal, optimistic, clarity and intellect.
"It's a game about the emotions that can be caused by different colors. … If you stand and look at the pieces, then you look at the name of each piece from my color studies as artist, there are certain colors that just evoke certain emotions," said Ballou, who also has a background in marketing.
At Telluride Arts HQ, paintings hang on white walls and are grouped by color. Directly to the left, as you walk through the glass doors, is a cluster of red-themed paintings of all sizes. To the right of the red hang orange and yellow paintings. The colors of the rainbow then guide you around the room like a map, and before you know it, you're on the other side of the gallery and have experienced the whole rainbow. sky.
Austin Halpern, Events and Exhibitions Manager for Telluride Arts, curated Ballou's exhibition. Halpern found setting up Ballou's work to be a unique and rewarding challenge compared to previously featured artists.
"Emily's exhibition was really fun to install as it presented a creative challenge. Putting the different sized pieces together was like a puzzle. I love how Emily took a non-linear curatorial approach, choosing to fill a more large area of ​​the walls with a rainbow of flowing colors. Each of Emily's paintings are so beautiful on their own, and it was exciting to see this show come together as a whole," he said.
Initially, Ballou had not planned for the paintings to follow the color of the rainbow. Like most of his work, Ballou has no idea what the final result of the painting will look like after laying down his brush. This notion of an ambiguous ending rang true as she worked on her pieces for Telluride Arts. However, the more she painted, the more colors and theme began to emerge from the canvases.
"I started to see that I could potentially hang the pieces in a rainbow. It's a subtle nod. And like most of my work, it's up to the viewer to see and feel everything that art brings to him," added Ballou.
Before moving to Telluride, Ballou worked at an American company in Texas. It wasn't until she arrived in the San Juans that she began to pursue her art. Although she's had several jobs since arriving in Telluride, she explained that painting was the one constant in her life here. His work can be found at local businesses like Little House and Studio G.
All Telluride Arts HQ paintings are available for purchase. Ballou's paintings will be on display throughout March and April at Telluride Arts HQ. The gallery is open most days from 12 p.m. to 6 p.m. or by appointment.