100 remarkable artists open their workshops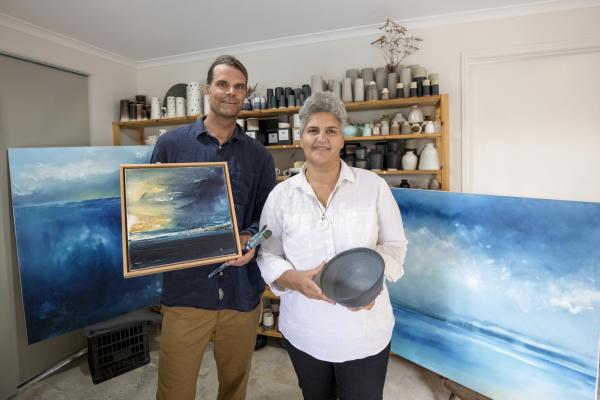 By Abbaye Cannan
Visit the home studios of over 100 notable artists at Queensland's largest open studio event, the Noosa Open Studios Art Trail.
Go behind the scenes from October 1 to 10 with painters and potters, ceramists, sculptors, metallurgists… on artistic journeys from coast to coast.
Explore the creative culture of Noosa along five distinct walking trails leading to beautiful Noosa Beach and the backcountry villages.
Noosa Open Studios President Anthony Wynne-Hoelscher said the artistic journey allows artists to sell studios without paying a commission.
"This is really quite significant, when you consider that a region like Noosa and the hinterland, which is not the most populated in the country, has more than 100 artists who can open their workshops to all lovers of art. 'art for 10 days. It's quite extraordinary, "he said.
"It says a lot about the nature of this place as a magnet for people who are in the arts. Not only the visual arts, but also you look at all the other arts that are really cultivated in our region such as music, playwrights, filmmakers. "
Anthony said it was an interesting time to plan the event for the second year in a row during the Covid pandemic.
"Last year we were worried and postponed the event from August to October because we feared the closures were still in full swing," he said.
It ended up being one of the only events held in Noosa during the whole year.
"We couldn't attract any visitors from New South Wales or Victoria due to the national lockdowns, so we had to rely on the Queenslanders to attend the studios," Anthony said.
"Despite this, we achieved record sales.
"There you go, this year seems to be exactly the same. We therefore feel quite confident since we had such a result last year. But, time will tell and we'll give it a red hot shot. "
Anthony said that cultural tourism has a much greater return than surf and sand tourism.
"Our relationship with Tourism Noosa is based on the fact that artistic and cultural tourists tend to spend more time in the area and spend more money while they are here," he said.
"Even though you're not necessarily someone who loves art, it's a really wonderful day. You can drive around the area and see things that you wouldn't normally see. The studios are scattered all over the place.
"We want the midweek to be as dynamic as the weekend. Monday we have the Noosa Trail, Tuesday is the Beaches Trail, Wednesday is the Tinbeerwah Trail in Eumundi, and Thursday is the Cooroy Trail in Cooroibah.
Learn about the creation process, take home your favorite pieces, and be inspired by talented local Noosa artists.
Also during the Noosa Open Studios, a range of interactive art workshops run by some of the region's talented local artists, from mixed media and abstract works to landscape painting and pop art, watercolors, painting techniques pastel and raku pottery to the making of brushes and lanterns. .
Among the featured artists are artistic couple Ben and Elke Lucas, who will share a studio at 3 Shamrock Court, Sunrise Beach.
Ben is an award-winning painter of emotionally evocative seascapes full of light, color, movement and memories; while Elke is a highly regarded Australian potter who makes high-fired tableware and household items by hand.
Anthony said the couple are world class performers.
"The fact that they're in different genres is a wonderful thing. They are very complementary, "he said.
"I think you have two really contemporary artists there who represent the depth of art that we can present in this region. Elke and Ben, being a younger couple, carry the flag for the future as far as I am concerned. "
Reservations are required and individual workshop fees apply. Make sure to book early as seats will fill up quickly.
There are also a range of superb partner galleries to visit, including the Noosa Flagship Regional Gallery, by the Noosa River, and backcountry highlights including the Cooroy Butter Factory Arts Center and Gallery. from Pomona station.
More details on noosaopenstudios.com.au or follow us on Facebook and Instagram @noosaopenstudios